Speaker of the House Mac McCutcheon Endorses Roy Moore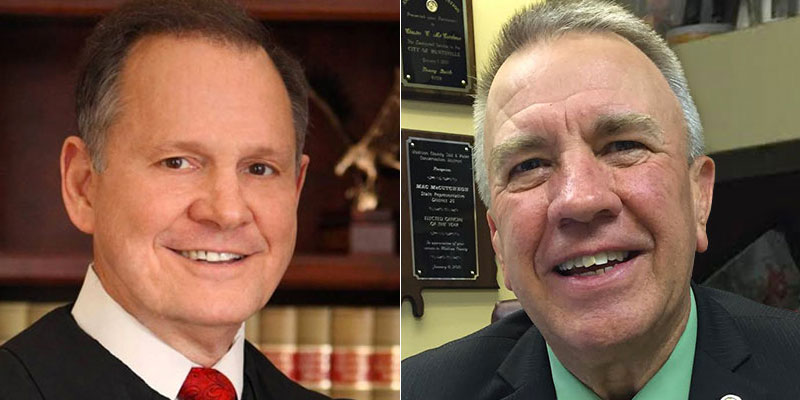 Roy Moore continues to rack up endorsements from major Republican figures ahead of the December 12th special election. On Wednesday, his campaign announced the endorsement of Alabama Speaker of the House Mac McCutcheon (R-Monrovia). McCutcheon believes that Moore is the only candidate to fill Jeff Session's shoes.
"I am pleased to add my name to the continually-growing list of those endorsing Judge Roy Moore in his bid to fill the U.S. Senate seat vacated by Jeff Sessions," McCutcheon said. "Judge Moore is the only candidate remaining in the race who holds the same conservative beliefs and moral values that most Alabamians share, and he is the only one who will follow in the footprints that Jeff Sessions left behind."
"The fact that noted liberal Democrats like Joe Biden and Tim Kaine are working feverishly to elect Judge Moore's opponent offers concrete proof that Doug Jones opposes President Trump's reform agenda and embraces Barack Obama's ultra-leftist positions on issues like Obamacare, abortion, immigration, and gun control," McCutcheon observed. "The liberal course that Doug Jones would chart for our nation directly contradicts the mainstream conservative views of average Alabamians."
"For these reasons, Judge Moore has my firm support and my prayerful hopes for his successful election on December 12th."
McCutcheon's endorsement adds to an every-growing list for Moore that includes state leaders such as Del Marsh and Tripp Pittman, celebrities like Chuck Norris and Sarah Palin, and Elected Officials such as Mo Brooks and Mark Meadows. It seems Republicans are coming out of the woodwork to show support for their candidate.
RELATED: Del Marsh Endorses Roy Moore for Senate