Sessions: Influx of immigrant labor is crushing poor African-Americans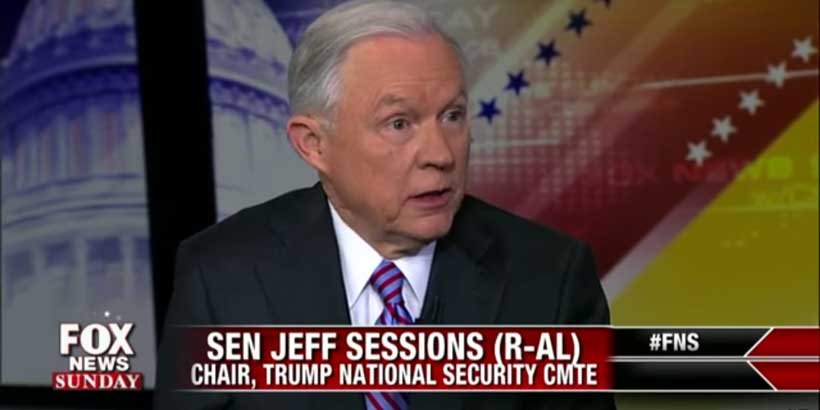 WASHINGTON, D.C. — In an interview with Fox New's Shannon Bream, Alabama Senator and Trump surrogate Jeff Sessions took to the airwaves to discuss how Trump's plan for the economy is the best for poor African-Americans.
"[This election] is about, who can fix this economy, who can put us on the right track," he said.
Sessions noted that an large influx of immigrants could harm low-wage workers already living here. Among those, he pointed out, are many in the African-American community.
"Does it help poor African-Americans to bring in more labor than we have and bring down wages as we've been seeing into this country? Does it help them to have bad trade deals so that manufacturing plants are — are closed and wages aren't there?" he said. "We have the highest — almost double the unemployment rate among young African-Americans than we do among others. So we need to protect this economy, create — have a strong leader who can break up this log jam in Washington."
Long before the Trump candidacy, Sessions has been one of the most outspoken federal officials on the issues of trade and immigration control. Agreement on those key issues is what brought the Alabama Senator to ultimately endorse the New York billionaire and join his team as a national security advisor.
Sessions has taken action in the Senate to control and restrict the use of the H1B visa, which allows companies to bring in high-skilled labor from foreign countries. He has also actively pushed for more border security and the defunding of sanctuary cities.
RELATED: Shelby, Sessions push to defund sanctuary cities
Late last month, the Senate Subcommittee on Immigration and the National Interest, headed by Sen. Sessions, determined the cost of presumptive Democratic presidential nominee Hillary Clinton's refugee plan to be roughly $403 billion.
RELATED:
1. Sessions-led committee estimates Hillary's refugee plan would cost a jaw-dropping $400B
2. Sessions calls for hesitant GOP leaders to get on Trump Train: 'Look at the election returns'
Sessions' full interview on Fox New can be viewed below.
https://www.youtube.com/watch?v=jJhz5sgsVgw