Return of UAB Football Is An Instant Hit in Birmingham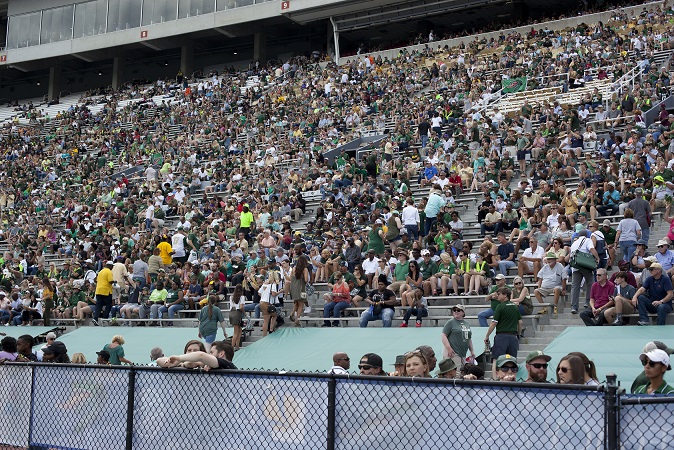 Saturday marked a day that many have been anticipating for years now – the return of UAB football. A record attendance of 45,212 packed into Legion Field to see the Blazers return to the South's most beloved sport. The boys on coach Bill Clark's team put on a show for the anxious fans, defeating Alabama A&M 38-7.
UAB football died back in 2014 after board members and trustees decided that the cost of upgrading athletic facilities and covering operating expenses would far outweigh the revenue that the team actually brings in. However, football on the southside campus returned in full force on Saturday, truly rising out of the ashes. According to Alabama News Center, this was not the UAB football experience that some may remember from the past.
A few years ago, the tailgating scene at Legion Field would have been lackluster at best. Perhaps a few tents would be strewn across the parking lot. However, Saturday's 2:30 game brought dozens of tailgaters, sprawled across the stadium parking lot around to the west side.
In addition to tailgaters, a new and improved children's play area was located on the practice field of McClendon Park. According to Alabama News Center, "It was part of Blazer Village, which also had expo booths, student tailgating and corporate hospitality tents."
"It's lots better," said Guntersville's Jane Hill. "The kids are really, really enjoying it."
Players and coaches received a roaring welcome as the UAB band, cheerleaders, and fans formed an extended Blazer Walk as they made their way into the stadium. Craft O'Neal, chairman of O'Neal Industries and member of the Gang of Seven that contributed the necessary funds to bring back UAB football, reflected on seeing the Birmingham community's overwhelming support for the Blazers.
"I think Birmingham decided it was time to step up and meet its potential as a city and UAB is the driver of our community. It was a great investment and as you look around you're seeing the return on that investment."
Saturday's pre-game festivities highlighted some of the more heart-tugging contributions to UAB football. When Bennet Williams was just five years old, he learned that UAB's football program would be cancelled. He decided to give the only dollar he owned to help revive the program. Now eight, Bennett was invited to take part in the coin toss on Saturday.
However, another UAB supporter stole the show Saturday. Timothy Alexander, a paraplegic who has become the face of UAB football, rose from his wheelchair and walked 28 steps to hand the game ball to the referee. "I just threw it out there with faith and met it up with action and we walked out today," he said. "It was good just to show people what you can do if you believe. We passed the legacy over to this team.
Saturday proved that the university, players, coaches, fans, and city of Birmingham are all behind UAB football. The Blazers have returned in full force, and fans are excited for the future of their beloved program.