Nick Saban Hoping To Learn From Last January's Failure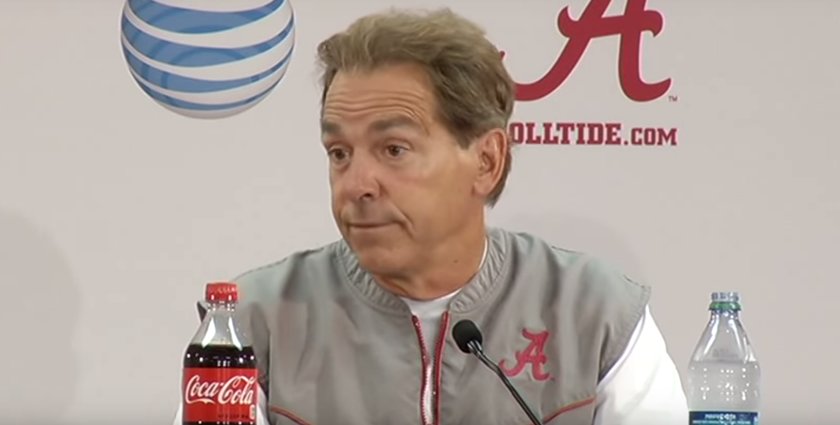 HOOVER, Ala. — After a 14-1 season, an SEC Championship, and finishing second overall in the country, Alabama Head Football Coach Nick Saban has one word to describe 2016: failure. Such is the mentality that has made his program one of the most dominant in college football history.
"I hope we won't waste a failure," Saban said of the Tide's heartbreaking loss to Clemson in the National Championship game. "We weren't able to finish like we needed to, and there were a lot of lessons to learn from that."
At this year's edition of SEC Media days, there is certainly no shortage of topics for Saban to discuss. From the rare championship defeat to the new offensive coordinator, reporters were eager to get more information about how the Alabama program is handling the current transition.
Overall, Saban has been pleased with the work put in by his new offensive coordinator, Brian Daboll. Saban hired the former New England Patriots Tigh Ends Coach after Steve Sarkisian abandoned the program after coaching in only one game. Specifically, he has liked the progress he has seen Daboll make with quarterback Jalen Hurts' passing ability.
The Tide begin their season in Atlanta in a likely top-ten matchup against the Florida State Seminoles. Coming off of a surprising Orange Bowl victory against the Michigan Wolverines, FSU is expected to have a successful year in the ACC.
"Florida State probably has as many good players returning as anyone in college football," Saban said. "They're built like an SEC team. They're fast, but also big and tough and play good defense."
The anticipation for the Bama-FSU matchup is only growing, and tickets for the game are already sold-out.
Besides Alabama, no team in the SEC has the same coach it did seven years ago, and one reporter asked Saban what it takes to stay at one program so long. The five-time national champion had a one-word answer: "Win."
Saban was joined at Media Days by three Crimson Tide upper-classmen: Minkah Fitzpatrick, Calvin Ridley, and Bradley Bozeman. All three are expected to have standout performances this year.