Tuscaloosa murderer loses appeal in Supreme Court…Thousands of felons register to vote…US Navy Blue Angels land in Tuscaloosa…and more
written by J. Holland
on November 27, 2017 at 4:00 pm CST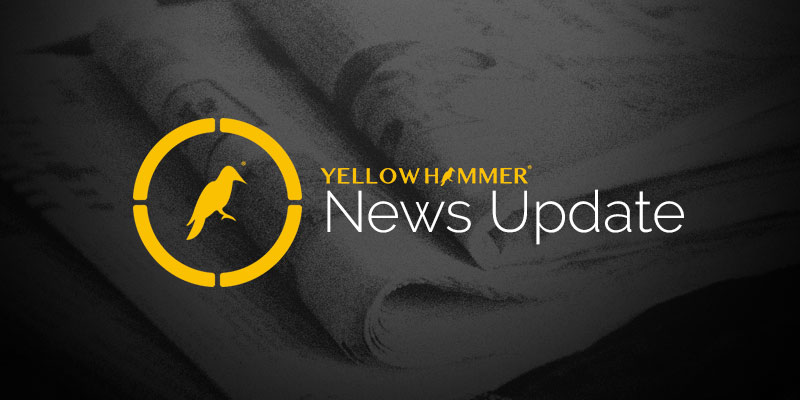 James Scott Largin, 46, of Tuscaloosa, loses his appeal to the U.S. Supreme Court to have his murder conviction overturned. Largin had appealed to High Court contesting a December 2015 ruling by the Alabama Court of Criminal Appeals, upholding his conviction and death sentence. Today, the Court, without comment, refused to review his case. Largin was sentenced to death in 2009 for killing his parents, Jimmy Largin, 68, and Peggy Largin, 56.
Also today, the U.S. Supreme Court refuses to hear an appeal from a black attorney who called the Confederate battle emblem on the Mississippi flag "an official endorsement of white supremacy." There was no comment as the justices ended Carlos Moore's suit that tried to have the flag declared an "unconstitutional relic of slavery." Mississippi has used the same flag since 1894.
Thousands of felons across Alabama have registered to vote in recent weeks. There is a statewide effort to get felons to the voting booth. According to Pastor Kenneth Sharpton Glasgow, 42, of Dothan, his goal is to get as many felons as possible signed up to vote before the end of the day Monday, the deadline to be able to cast a ballot in Alabama's Dec. 12 U.S. Senate special general election. In 2015, Glasgow, younger brother of Al Sharpton, was accused of sexually assaulting a Dothan woman at his ministry.
Two of the legendary U.S. Navy Blue Angels land in Tuscaloosa as part of their preparation for next year's Tuscaloosa Regional Air Show. Lieutenant Andre Webb and Lieutenant David Steppe arrived at a private hangar at the Tuscaloosa Regional Airport in their signature blue and yellow McDonnell Douglas F/A-18 Hornets. The Tuscaloosa air show in April will mark the fifth time the Blue Angels have performed over Tuscaloosa since 2009.
President Trump says efforts to pass tax reform are going well in Congress. The president was asked about the bill today during an event to honor Navajo code talkers during World War II. The president said the measure will create lots of jobs by stating, "And we're going to be bringing back into this country probably in excess of four trillion dollars, four trillion, that's outside of the country that right now because of our tax laws can't come back in."
A 13-year-old kid damages several businesses in the Wildwood Shopping Center in Homewood near Birmingham, Sunday around 9:45 p.m., when the child intentionally crashed a stolen car into them. Planet Fitness, Sprint, Lowe's and the Country Inn and Suites were damaged. Homewood police found the driver going the wrong way on Wildwood North Circle. The driver, listed as a missing person from Tuscaloosa County, was arrested and taken to the Tuscaloosa Juvenile Detention Center. Charges will be forthcoming from Homewood police.