A teenager in Guntersville sentenced to jail time for an accidental shooting…historic building in Huntsville going for bids in hopes of future renovation…and more
written by Andrea Tice
on November 21, 2017 at 4:00 pm CST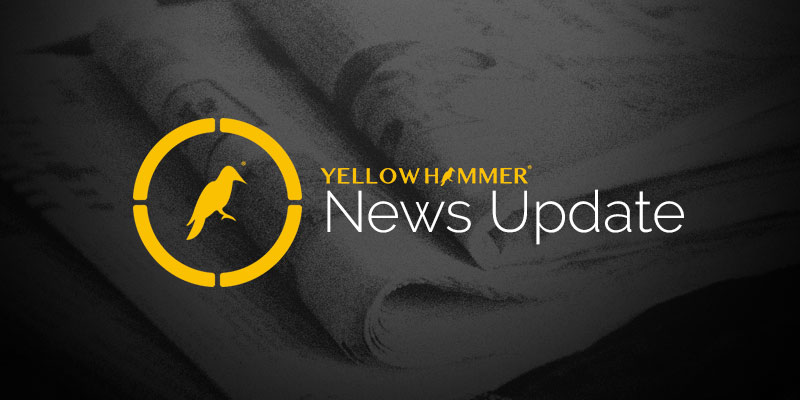 The Elmore County Sheriff confirms that the escaped inmate from Coosa County Jail has engaged in kidnapping as he runs from the law. 26-year-old Shane Vernon took a man from his home last night after also stealing his vehicle. Vernon abandoned both the car and the victim in Douglasville, Georgia. The victim got hold of police in Franklin. It's not clear what mode of transportation Vernon has now. He is white with dark hair, 5-foot-9, 130 pounds with a Chinese symbol tattooed on his neck. A tattoo on his right fist says "ride or die".
A teenager in Guntersville is sentenced to jail time for the accidental shooting death of his 15-year-old friend in 2015. Ryan Fitch will be in prison for 12 months for criminally negligent homicide. Fitch aggravated the death of 15-year-old Jason Richards by covering it up and hiding the body. Richard's body was discovered months later in Albertville. The victim's parents thought he was missing the whole time. They spoke in court saying they went through hell and that the pain hasn't gone away.
DeKalb County Police say a woman has died in a house fire today. The blaze broke out at a home in the Aroney community. The victim's name has not been released. The Alabama State Fire Marshal is working to determine the cause of the fire.
A historic building in Huntsville is going up for bids this month. The Madison County Law Library is over a hundred years old. For 30 years, it was home to a J.C. Penney's. The auction of the building will take place on Nov. 30 in the hopes of future renovation. It's becoming a landslide of louts.
The host of CBS news and PBS Charlie Rose is now officially terminated from his job in the wake of 13 women claiming sexual harassment. 75-year-old Rose is facing claims of groping his female employees and offering women jobs only to fire them after they refused his sexual advances.
Now more details are emerging about Michigan Congressman John Conyers and his financial settlements with office workers who claim he sexually harassed them. The most recent employee says she was fired in 2015 and paid to be quiet about it because she refused the advances of 88-year-old Conyers. The halls of Congress are getting rocked by this new report since it's become known that taxpayer money has been used to settle with other female workers who claim the lawmakers harassed them and used their office of power to gain sexual favors.
A new poll today says well over half of Americans are dreading the upcoming Thanksgiving feast because of the topic of politics that are sure to come up. The NPR/PBSNewsHour/Marist poll shows that when it comes to the topic of President Trump, 68 percent of Democrats are dreading the conversation and 44 percent of Republicans feel the same.