New poll shows Moore in the lead…Gov. Ivey lights tree in Montgomery…Tuscaloosa businesses replace stolen goods after a Toys for Tots robbery…and more
written by J. Holland
on December 2, 2017 at 7:00 am CST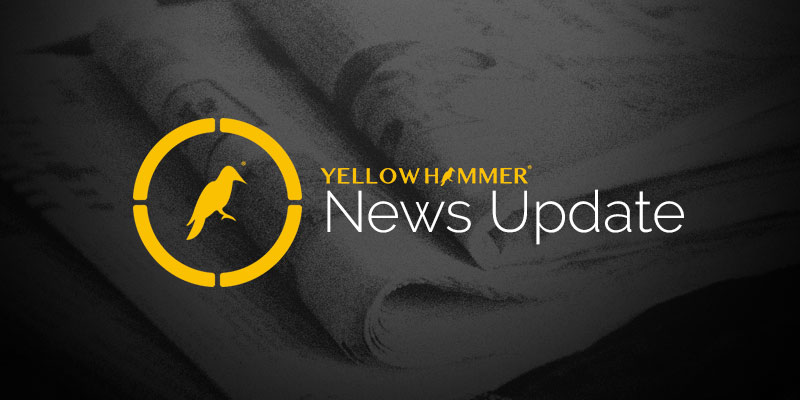 There is a real Grinch loose in Tuscaloosa. Thieves broke into a warehouse that was being used by Tuscaloosa Toys for Tots as storage and stoles hundreds of dollars' worth of electronic toys. They got in the warehouse by knocking a hole in a wall where an air conditioning unit had been. But, in typical Mary Lou Who style, several businesses have stepped in to replace what was stolen. A nice silver lining. Tuscaloosa police are keeping a close eye on the building.
A new poll by the Alabama Senate, conducted by Rick Shaftan and funded by major donors to conservative candidates and super PACs is released today by Breitbart News. The poll has Judge Roy Moore with 48% support to Mountain Brook Democrat Doug Jones' 40%, according to the weighted data. That's an improvement for Moore of 5 points since the same firm released a poll last week. Four polls were released this week, and all them put Moore in the lead.
Meteorological winter begins today. The seasons are for specific periods of time, unlike the astrological season, which are based on the Earth's position to the sun. The meteorological seasons are an even three months each in duration. Also, the meteorological seasons are defined by the temperature cycle. Meteorological winter includes December, January and February.
Cumulus Media, an Atlanta-based radio company, which owns 21 stations in Alabama, files for Chapter 11 bankruptcy, today. Cumulus said it will continue normal operations while working through a restructuring plan, which will drop some $1 billion in debt. Cumulus owns 446 radio stations in 90 markets and is the country's second largest radio company. No stations will close during the bankruptcy.
The state Christmas tree will be lit by Governor Kay Ivey during a ceremony at 5:30 p.m. today at the Capitol in Montgomery. The huge tree is 37 feet tall and is an eastern red cedar grown in Bullock County and donated by Mr. and Mrs. Ray Allen. About 35,000 lights and 100 ornaments will decorate the tree, including stars representing each of Alabama's 67 counties.
Harrison Schmitt, the only geologist and scientist to walk on the moon, and one of only 12 to do so, will make a talk at 4 p.m. in the U.S. Space & Rocket Center in Huntsville, Thursday, Dec. 7. He will sign copies of his new book, "Return to the Moon: Exploration, Enterprise and Energy in the Human Settlement of Space" from 3-3:45 p.m. Books will be available for purchase.