Coosa County jail prison door malfunction led to Shane Vernon's escape…Cyber Monday leads criminals to doorsteps…and more
written by J. Holland
on November 28, 2017 at 4:00 pm CST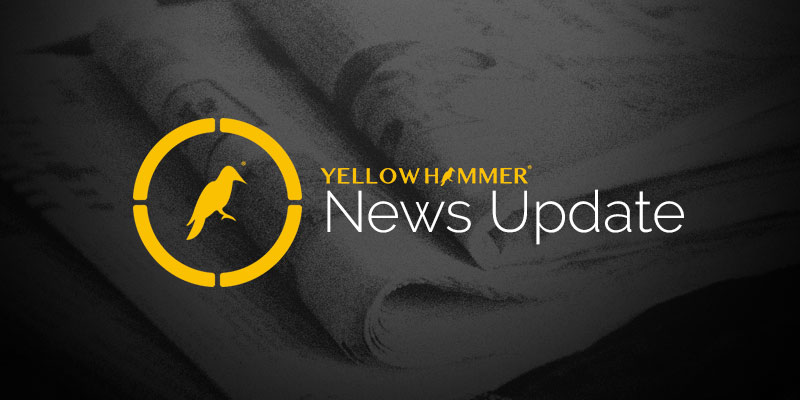 William Freddy Carter, Jr. is the Huntsville man who died in the officer-involved shooting Sunday. The incident happened just after 7:00 p.m. on Savoy Drive as three Huntsville police officers responded to a domestic call and were met with an armed man upon arrival. Police say that Carter shot the first officer as he entered the room, and that officer returned fire, hitting Carter. He was pronounced dead at the scene. The wounded officer was released Monday from the hospital. 
Monday, Coosa County Sheriff Terry Wilson says an electronic malfunction in a door lock control panel compromised security while Shane Anthony Vernon, 27, was using the phone on Nov. 19 in the Coosa County Jail. The malfunction led to Vernon's escape and his recapture on Nov. 21 in Georgia. He now faces new charges of escape, burglary, theft of property, unlawful imprisonment in Coosa County and similar charges in Elmore County.
Arby's is buying Buffalo Wild Wings. The deal, approved by both company boards, is worth about $2.9 billion and is expected to be complete by early 2018. There are more than a dozen Buffalo Wild Wings locations in Alabama with the most in Birmingham and Huntsville. According to a release, Buffalo Wild Wings will continue to operate as an independent brand.
Cyber Monday has a lot of criminals looking for packages on porches. With the holiday season upon us, more and more people are shopping for Christmas gifts online. After you click "purchase," UPS, FedEx and other delivery services bring those gifts right to your front door. Without the proper preparations, anyone could walk up and take them. So, make the proper preparations when you know packages will be arriving.
JSU is a playoff regular having advanced to the FCS post-season for five consecutive years, but Jax State has not won a national championship during those years. However, this season as the national number three seed, the Gamecocks believe they have the right stuff. The Cocks host Kennesaw State, Saturday in the second round. Kickoff is at 1:00 p.m. in Jacksonville.
Bud Moore, NASCAR Hall of Famer and World War II vet who was awarded five Purple Hearts and two Bronze Stars, has died. NASCAR announced Moore's death today. Born Walter Moore Junior, he always has gone by simply "Bud." No details were given, but Moore lived in Spartanburg, South Carolina. He referred to himself as "a country mechanic who loved to make `em run fast." Bud Moore died at 92.