After Moore Victory, Politicians Seek Bannon's Backing In Alabama and Beyond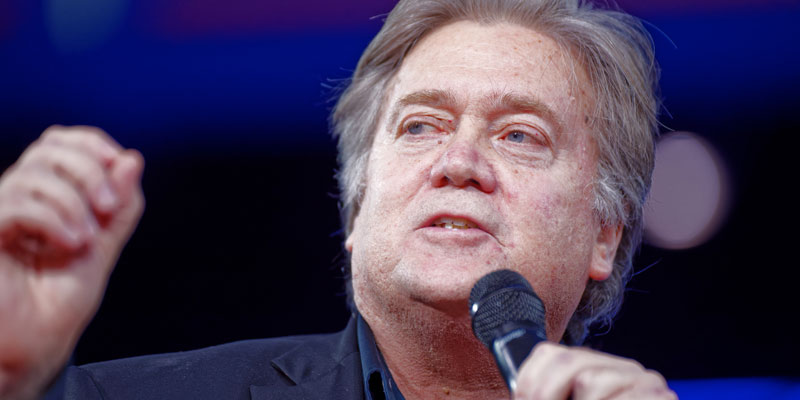 Weeks after Roy Moore's victory in the Alabama senate election, political candidates across the country are biting at the bit to shake hands with Steve Bannon in hopes of getting his endorsement. According to the Sun Herald, from Senate candidates to state legislators, political rivals are jockeying for the ex-White House aid's support.
"Steve is one of Washington's Pied Pipers of the conservative movement," said Brett Doster, media consultant for Roy Moore, Alabama's Republican nominee for senate. With Moore's victory, Bannon has found himself in the midst highly contested GOP races across the board.
Even more political figures from Alabama want to catch a ride on the Bannon train. "I plan to reach out to him to see if there's an interest, to see if they're willing to come on board to help us," said Alabama state Rep. Barry Moore. "It would be a good shot in the arm. It would be good for us to have him involved if at all possible." Moore hopes to challenge Representative Martha Roby in the 2018 Republican primary, partly over her criticism of President Trump during the 2016 election.
However, Bannon's influence doesn't stop at federal elections. State legislators from all over have flocked to garner Bannon's support. Florida state Representative Mike Hill was spotted wooing the Breitbart executive chairman at a political rally for Roy Moore in Fairhope the night before the runoff. "The same establishment that he is fighting in Washington, D.C. is the same establishment we're fighting against in Tallahassee," said Hill.
Veteran Republicans, however, see Bannon as an alarming threat. Many see his nationalist brand as out of line with traditional Republican values, and a potential turnoff to more moderate voters. "A civil war led by the Steve Bannon's of the world is destructive not only internally, but…independents are not in favor of nationalist movements and extreme politics," said Al Cardenas, the former chairman of the American Conservative Union.
Some have also claimed that Roy Moore's victory, in fact, had little to do with Bannon's support. Many argue that Moore's reputation as a religious crusader and Luther Strange's appointment by disgraced former governor Robert Bentley and his backing from Mitch McConnell swayed voters more than anything. However, that hasn't stopped candidates from West Virginia to Mississippi from calling on Bannon to stump for their campaign.
One GOP strategist said that Moore's win opened "the floodgates, and people who have been on the fence about jumping in point to that, see a path and try to recreate that magic in their own states. They will probably be overlearning a lesson. I think there are things unique to…Alabama. But I think it's huge encouragement to candidates like that."
One thing is for sure; candidates are not likely to stop vying for Bannon's support anytime soon.