McConnell accused of bribery scheme in Alabama U.S. Senate primary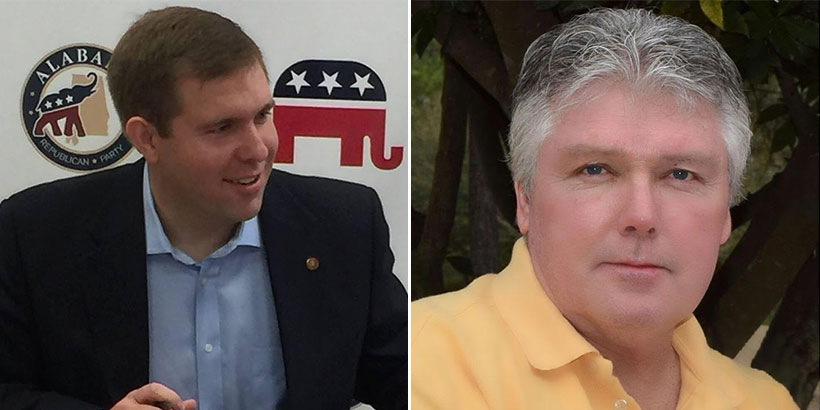 MONTGOMERY, Ala. — Republican U.S. Senate candidate John Martin is accusing fellow candidate Jonathan McConnell of perpetrating a bribery scheme that may have run afoul of federal and state law.
According to Mr. Martin, Mr. McConnell called him upon finding out that he had qualified to run for the U.S. Senate and offered him a bribe to exit the race.
"He called me asking me to drop out of the race," Mr. Martin told Yellowhammer, after initially alluding to the allegation on his campaign's Facebook page. "He told me that he was going to file the next day and that he had $250,000 of his own money that he was going to put into the race. I just listened, but then I said I wouldn't do it. Then he offered to pay me off and cover all of my expenses. That was absolutely illegal."
Mr. Martin said he then received a phone call from Mr. McConnell's father, Roger McConnell, the following day. Roger McConnell is a past chairman of the Alabama Republican Party and remains very active in state politics, particularly in the Mobile area.
"His father called me the next morning when I was at work and was basically apologizing for it," Mr. Martin recalled. "He just wanted to make it all go away. But it's not going to because it was illegal."
In a phone interview with Yellowhammer on Monday, Mr. McConnell initially denied the allegations, then conceded that he told Mr. Martin he would deliver financial assistance to him if he would exit the race.
"No, we didn't offer John Martin to get out of the race," he said. "He had offered to us, he was like, 'Hey, one of the two of us should get out of this race' when he qualified on that Thursday night. And I said, listen, you know, I was like, you know, I was like, one of the two of us should get out. And I said it should be him. And I would encourage — I would love it if John Martin would get out, Marcus Bowman would get out and Shad (McGill) would get out so it would be a head-to-head. When I had talked to him about this initially, you know, to me, I didn't know that much about it. But, you know, if it came to reimbursing his money on that, I told him I would make sure we found people who could do that."
A spokesperson for Mr. McConnell's campaign followed up to ask if there was a recording of Mr. McConnell making the offer to Mr. Martin. When asked if the existence of a recording would impact Mr. McConnell's handling of the accusations, the spokesperson said, "No, I would trust my candidate over someone who records phone calls."
These types of accusations tend to garner major headlines. This year alone, similar scenarios have played out in the Taiwanese presidential race, Kentucky's Democratic U.S. Senate primary, and a Utah city council election, among others.
But in addition to negative headlines, multiple campaign finance experts Yellowhammer spoke with Monday said that bribing a candidate to get out of a race could violate federal and state election laws.
Alabama Code section 17-5-7c, for instance, states that "a candidate, public official, or principal campaign committee shall not accept, solicit, or receive contributions… As a bribe… (or) for the intention of corruptly influencing the official actions of the public official or candidate for public office." Violating that statute is a Class B felony and carries a penalty of 2 to 20 years in prison and a $30,000 fine. There is some debate in legal circles, however, about how state law applies to federal races taking place inside a given state.
Yellowhammer also reached out to the other challengers to see if Mr. McConnell made similar offers to them.
Marcus Bowman of Fairhope said Mr. McConnell asked him for a meeting, which Mr. Bowman agreed to and attended with a large contingent of campaign staff and supporters.
"I will say that there were people with me who may have come to that type of conclusion," Mr. Bowman said when asked if Mr. McConnell offered him money in return for an agreement to forego his campaign. "People with me were wondering what is the point of this meeting. I told them, well I think he wants to size up his competition. He did indicate a lot of regret that other people are in the race."
Former state senator Shad McGill told Yellowhammer he had not spoken to Mr. McConnell, but said a similar offer he received during a past campaign prompted an investigation by the Alabama Bureau of Investigation and the Federal Bureau of Investigation.
"I got that kind of offer from a lobbyist once when I was running for state senate," he recalled. "The ABI and FBI ended up investigating it. It was at the same time all the gambling investigations were taking place. Me and the lobbyist were both subpoenaed."
Mr. Martin said he felt it was important to share the story because it gives voters an opportunity to see behind the facade that some candidates put up when they are running for office.
"This race has got to be about integrity," he said. "That's why I think this matters so much. These are the kinds of things that teach you about a man's character."
The four Republican candidates are attempting to unseat U.S. Sen. Richard Shelby (R-Ala.). The election is set to take place March 1, 2016.