Keselowski Survives Talladega Wreckage, Wins Alabama 500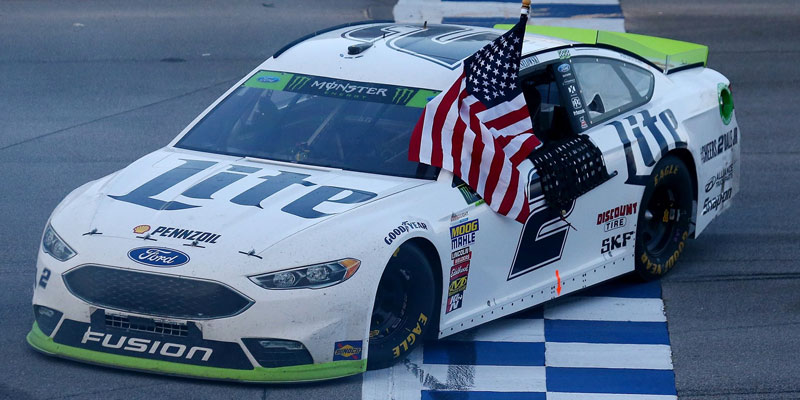 Brad Keselowski escaped three major wrecks over the last 16 laps to win the Alabama 500 Sunday at Talladega Superspeedway.
Only 14 drivers crossed the finish line in the accident-filled race. Keselowski was able to pass Ryan Newman for the lead on a white flag and held on to secure the win. The victory advances Keselowski to the semi-finals of the Monster Energy Cup Series playoffs.
"This is still sinking in," Keselowski said. "It is a special place to get to race and a special place when you win here. It was really a collaborative effort with the team and getting a real fast car and making the right moves as a driver and a lot of help from up above with staying out of those wrecks. It really takes all three and we had them all today."
As reported by SBNATION, Newman finished second, followed by Trevor Bayne, Joey Lagano, Aric Almirola. Dale Earnhardt Jr. finished seventh in a disappointing run for the Talladega superstar. Earnhardt was seeking his seventh win at Talladega in front of the epicenter of his fan base.
"I know those folks were hoping we could put something together, and I know there's a lot of folks came here, particularly to see this race because it's the last one here," Earnhardt said. "I hate to leave slightly disappointed, but hopefully they enjoyed everything else they saw. I mean, we ran as hard as we could, did the best we could."
There were three major accidents requiring red flag stoppages that slowed the closing laps. The biggest was a 16-car pile up that began when contact between Martin Truex Jr. and David Ragan sent Kurt Busch into a spin. Jimmie Johnson, Kevin Harvick, Matt Kenseth, Kyle Busch, Ricky Stenhouse Jr., Truex Jr., and Keselowski were all involved in the pile up. All but Harvick, Keselowski, and Kenseth were eliminated from the race.
The wreck-laden race will send a shakeup throughout the playoff standings going into next week's elimination race at Kansas Speedway. Keselowski and Truex, who won last week at Charlotte Motor Speedway, are guaranteed a spot in the semi-finals. The chaos at Talladega once again proves that the Alabama track is one of the biggest and baddest in NASCAR.