James Spann: Alabama drought gets even more intense
James Spann: Another mostly rainless week for Alabama from Alabama NewsCenter on Vimeo.
HISTORIC DRY SPELL ROLLS ALONG:
The last measurable rain in Birmingham was on Sept. 18 with 0.32 inches. The last time we had more than 1 inch in a 24-hour period came on July 30, when the total was 1.33 inches. No rain has been measured so far in November.
We have gone, counting today, 57 consecutive days without measurable rain. We blew past the record of 52 dry days in a row (set in 1924) last week.
A drought emergency remains in effect for all 67 Alabama counties; no outdoor burning is allowed, and water conservation is crucial.
COLD MORNING, PLEASANT AFTERNOON:
A weak short wave aloft will pass over the state today, but with no moisture, there is no chance of rain. Some Northeast Alabama communities were below freezing this morning (29 at Black Creek, 32 at Fort Payne), but we will see a high near 70 this afternoon with a partly sunny sky.
MID-WEEK:
Still dry. Mostly sunny days, fair nights tomorrow through Thursday. Expect low 70s tomorrow and Wednesday, followed by upper 70s Thursday. In fact, some spots could touch 80 degrees Thursday afternoon as the lack of soil moisture contributes to warmer afternoons.
HOPE FOR RAIN:
A major storm system will move through the Northern Plains Friday, with blizzard conditions developing over the Dakotas. A trailing cold front will approach Northwest Alabama Friday night, and a band of showers will enter the state. Unfortunately, moisture will be limited, and the primary dynamic support well to the north, so this won't be any kind of "drought buster" or big rain event, but the chance of rain looks good for the northwest counties of the state, with amounts of one-quarter to one-half inch for cities like Florence and Hamilton.
Showers will thin out as the front works south and east. Amounts for places like Birmingham, Tuscaloosa, Anniston and Gadsden will be under one-quarter inch, which won't come close to making a dent in the drought. And those south of I-20 won't see enough rain to measure, if they get any at all.
The main window for showers with the front will come from 10 p.m. Friday through 10 a.m. Saturday.
REST OF THE WEEKEND:
The sky becomes partly sunny Saturday afternoon with a high in the 60s, but Sunday will be windy and sharply colder behind the front; some places up in far North Alabama won't get out of the 40s; other North Alabama communities will see a high in the low to mid 50s despite sunshine in full force. A north wind of 10-20 mph will make it feel colder. It will be the coldest air we have experienced so far this season.
A freeze is likely for most of North/Central Alabama by Monday morning.
FOOTBALL WEATHER:
For the high school football playoff games Friday night, rain is possible over the northwest corner of the state. Otherwise, clouds will increase with temperatures in the 60s.
Alabama will host Chattanooga Saturday night at Bryant-Denny Stadium (6 p.m. kickoff). The sky will be mostly fair, with temperatures falling from 62 at kickoff through the 50s during the second half.
Auburn hosts Alabama A&M Saturday night at Jordan-Hare Stadium (6:30 p.m. kickoff). Mostly fair, with temperatures falling into the 50s during the game.
THANKSGIVING WEEK:
No sign of badly needed rain next week; the week looks cool and dry for now for Alabama.
LONG RANGE:
Still encouraged to see the European ensemble showing a relatively wet December, with potential for more than 5 inches of rain.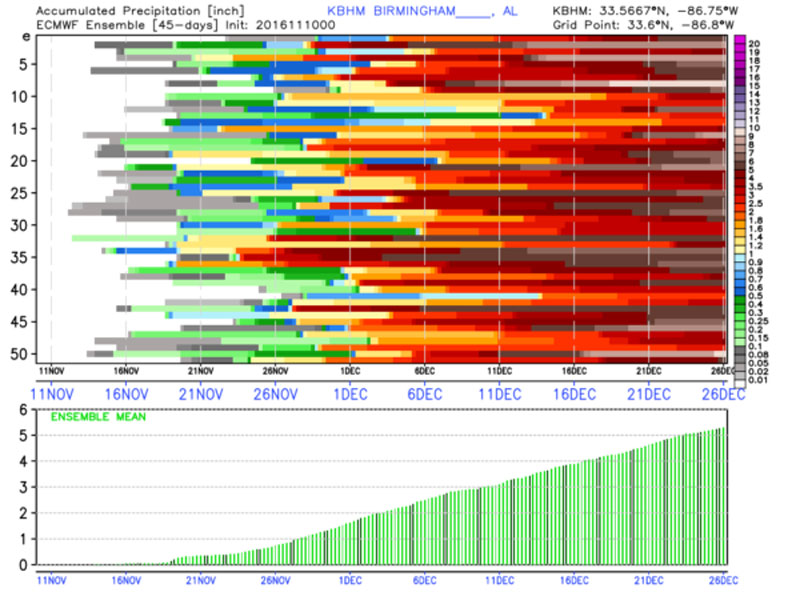 SUPERMOON:
The moon this morning is the closest full moon to Earth since 1948. We won't see another supermoon like this until 2034. The moon's orbit around Earth is slightly elliptical, so sometimes it is closer and sometimes it's farther away. When the moon is full as it makes its closest pass to Earth, it is known as a supermoon. At perigee — the point at which the moon is closest to Earth — the moon can be as much as 14 percent closer to Earth than at apogee, when the moon is farthest from our planet. The full moon appears that much larger in diameter, and because it is larger shines 30 percent more moonlight onto the Earth.
So, be looking again tonight. Moonrise for Birmingham today is 5:19 p.m. The image below was taken this morning from Arizona by Scott McCown.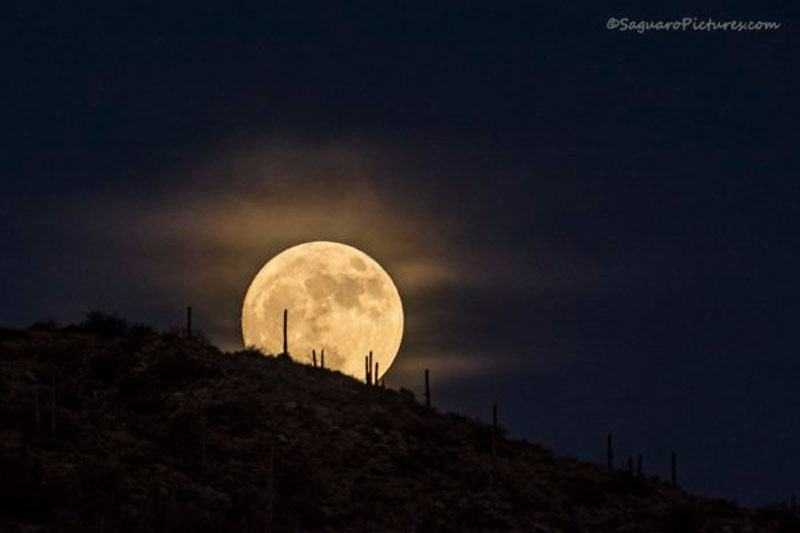 AT THE BEACH:
Sunny days, fair nights on the coast through the weekend from Gulf Shores to Panama City Beach, with highs generally in the 70s. See a detailed Gulf Coast forecast here.
TROPICS:
A disturbance in the western Caribbean has some chance of getting organized this week, but it will move northeast and won't be an issue for the U.S.
WEATHER BRAINS:
You can listen to our weekly 90-minute netcast anytime on the web, or on iTunes. This is the show all about weather featuring many familiar voices, including meteorologists at ABC 33/40. We will produce this week's show tonight at 8:30. You can watch it live here.
CONNECT:
You can find me on all of the major social networks:
Facebook
Twitter
Google Plus
Instagram
For more weather news and information, visit AlabamaWX.