Unemployment numbers out for Alabama with record lows…Bocar will build a new plant creating 300 more jobs…and more
written by J. Holland
on November 17, 2017 at 5:34 pm CST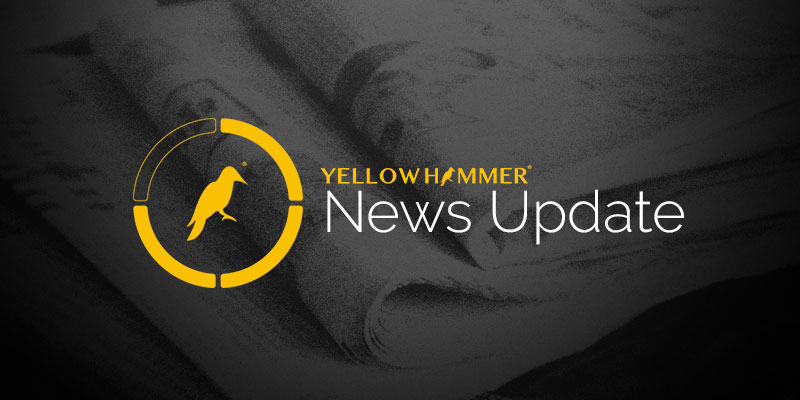 The unemployment numbers are out today and the rate for Alabama is at a record low 3.6 percent. Governor Kay Ivey says the rate is down from the September rate of 3.8 percent, and it's the lowest ever recorded in Alabama. October's rate was well below the rate one year ago of 6.1 percent, and it's three-tenths of a percent better than the 4.1 percent rate of last month, which was the lowest in almost 17 years. Shelby County is lowest in unemployment at 2.6 percent, and Wilcox County in western Alabama is highest at 8.9 percent.
Bocar made a huge announcement Thursday at the Huntsville/Madison County Chamber of Commerce, along with City of Huntsville and Limestone County officials. The company will build a $115 million new plant, creating more than 300 jobs in a project that adds to the state's booming automotive manufacturing sector. The plant will be built adjacent to I-65, in the Huntsville portion of Limestone County.
Roy Moore is continuing his defiance of national Republicans, showing no signs of stepping down in the face of calls for him to quit the race for U.S. Senate in Alabama. The battle now centers on the establishment of Washington Republicans who want Moore to quit the race. However, the Alabama state GOP is standing behind his candidacy, in spite of accusations of sexual misconduct from several women.
Kayla Moore, the wife of Roy Moore, says her husband will continue to work for the people of Alabama and move forward with his bid for the Alabama Senate seat. Moore joined other women supporting her husband's campaign on the steps of the capital in Montgomery, today…VERBATIM: "Even after all the attacks against me, against my family, against the foundation and now against my husband, he will not step down."