Trump continues to endorse Moore…St. Clair schools on soft lockdown…Fort Payne woman is arrested for driving a child while intoxicated…and more
written by J. Holland
on December 4, 2017 at 1:00 pm CST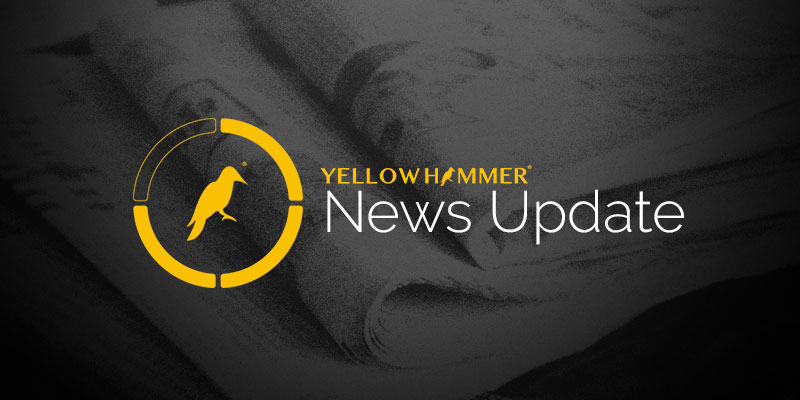 Today, after the President took to Twitter to announce his endorsement of Judge Roy Moore for the United States Senate, the President called Judge Moore from Air Force One and expressed enthusiastic support for his candidacy. President Trump called Judge Moore a "fighter" and expressed his eagerness to have Judge Moore fighting for his agenda in Washington.
Antwone Wilson and Ronald King, inmates in the Saint Clair Correctional Facility, escape today in Springville; as a result, all Saint Clair County schools have been put on soft lockdown. Wilson was convicted of first-degree robbery and King, for burglary. Wilson is five feet tall and weighs 145 pounds. He has black hair and brown eyes. King is 6-foot-1 and weighs 160 pounds. He has black hair and brown eyes. If you see either inmate, call 800-831-8825.
President Trump today, just before boarding Marine One on his way to Utah, comments on the stock market predicting it will have a "very big day" based on the GOP tax reform effort. He stated, "The only thing that hurts it is the fake news, and there's plenty of that." The economy and most every economic indicator is way up since President Trump took office back in January.
Mary Elizabeth Stevenson, 37, of Fort Payne, is arrested in connection to endangering a child. Fort Payne Police Chief Randy Bynum says a school resource officer was informed that Stevenson was on her way to pick up a child from school and that she was intoxicated. When she arrived at the school, the officer found another child already in the car with Stevenson. She was arrested by Fort Payne Police and charged with DUI and endangering the welfare of a child.