Your mid-morning Yellowhammer News update
written by Andrea Tice
on November 14, 2017 at 10:03 am CST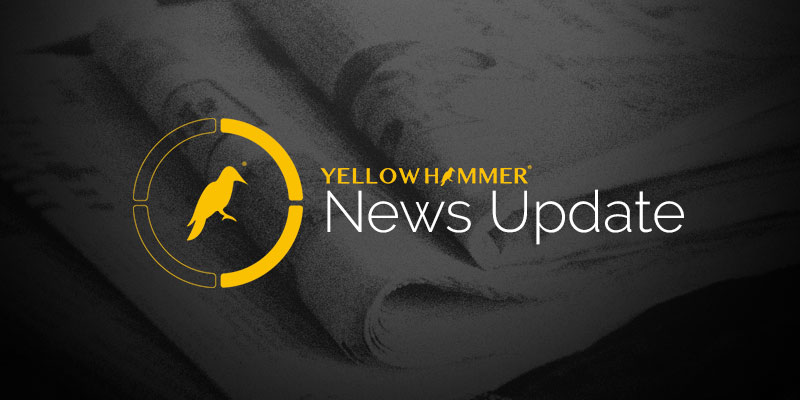 Governor Kay Ivey, who has said she would vote for Roy Moore but would not endorse him, was asked Monday if the Washington Post story alleging sexual misconduct decades ago has changed her mind. Ivey said, "I will hold judgment until we get more of the facts. The people of Alabama need to know the facts." She went on to say, "Based on what I know now, yes I will vote for him. But we don't have the facts. There may be some more facts to come out. But he is the party's nominee." Ivey said voting for Moore but not endorsing him is in line with her practice never to endorse candidates.
A tragic hunting accident claims the life of a teenage girl from Adger. The Jefferson County Sheriff's Office says the 15-year-old girl was killed while climbing a tree stand with her hunting party. A friend was passing the rifle down when it went off. The girl died later at the hospital. The victim's name has not yet been released.
Prattville Police are on the lookout for a woman suspected of forgery. Police say the female used stolen and forged checks to purchase items between Oct. 7 and Oct. 14. The suspect is described as a black female about 40 to 50 years of age, 5 feet 7 inches tall and 150 pounds.
Attorney General Jeff Sessions will be speaking on Capitol Hill today. Sessions will testify before the House Judiciary Committee. Many house members are expected to question Sessions on further probing the Uranium One Deal between the U.S. State Department and Russia that indicates the Clinton Foundation received donations as part of that deal. Several members of the House Judiciary Committee have sent letters to Sessions requesting a special counsel be formed for the issue. Sessions has indicated that he is taking action on those requests.
Kentucky Senator Rand Paul returns to Congress for work this week, despite six broken ribs. Paul spoke publicly about the violent attack from his neighbor just ten days ago while he was mowing his lawn. Paul dispelled reports that the neighbor tackled him over landscaping issues. Paul says he hasn't even seen or spoken to Rene Bucher in ten years, so that clearly was not the motivation.
The Department of Transportation announces a new policy to test for opioid use in 2018. Those within the transportation industry such as airline pilots and truck drivers would be subject to that test. Secretary of Transportation Elaine Chao says the opioid crisis is a threat to public safety especially when it involves any kind of vehicle or transport. Next year the drug testing will look for the use of hydrocodone, oxymorphone, oxycodone and hydromorphone.