Your mid-morning Yellowhammer News update
written by Andrea Tice
on November 13, 2017 at 10:00 am CST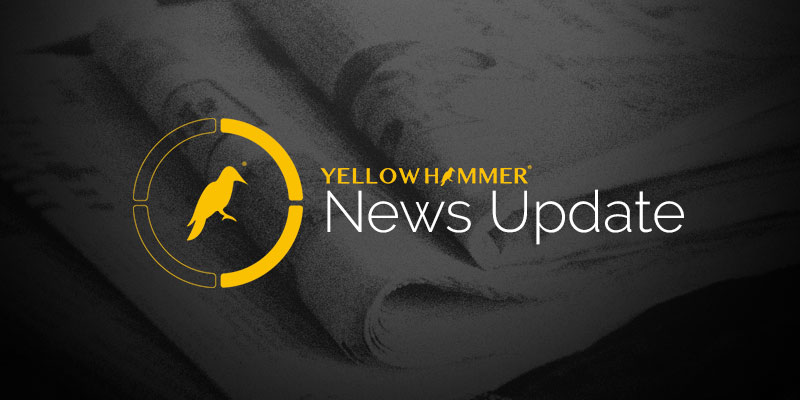 Republican Senate candidate Roy Moore says a D.C. newspaper has a lawsuit coming. Speaking in Huntsville last night, Moore told the audience that the Washington Post report from last week is completely untrue and desperate and the paper will be sued. Moore is referring to the allegation that he had sexual contact with an underage teenage girl about 38 years ago. Moore says his campaign will engage in a lawsuit as soon as all necessary information is gathered.
An Atlanta-based rapper last seen here in Alabama is still missing after a week. Edward Reeves, known as Bambino Gold and his cousin Kendrick Stokes were visiting their hometown of Montgomery on Nov 4. The two were last seen together attending the Alabama National Fair and leaving a friend's house in a white Honda CRV. Something happened to the two men between 11:30 p.m. and 1 a.m. Police are following leads from cell phone records.
One person is dead after a shooting in Coaling. Police arrived at Aimee Drive last night to find a 27-year-old shooting victim. The man was transported to the DCH Regional Medical Center where he later died. Police are processing the scene and interviewing witnesses.
The Crimson Tide remains at No. 1 on The Associated Press college football poll. Miami takes the No. 2 spot behind Alabama. The Auburn Tigers moved up to No. 6 after defeating Georgia, putting the Bulldogs on the seventh rung in that list.
On this date in 1833 in Alabama history, a two-day meteor shower became known as the night stars fell on Alabama. The fantastic light show became a part of Alabama folklore inspiring songs, a book and in 2002, the state put the phrase "Stars Fell on Alabama" on its license plates.
President Trump is wrapping up his ten-day tour of Asia by visiting the Philippines. Trump will meet with Philippine president Rodrigo Duterte as well as attend a series of meetings on security affairs for southeast Asian nations. An issue that Trump may weigh in on is the tensions in the South China Sea where China's man-made island has created territorial disputes.
On Sunday, Trump met with Vietnam president Tran Sai Quong and praised the country's leadership for expanding the middle class.
A Florida man is arrested for driving his lawnmower on a major highway while drunk. The Port St. Lucie man was veering down Highway 1 on a red snapper lawnmower. 56-year-old Kenneth Alleshouse had a case of Budweiser beer with him. Police conducting a sobriety test on Alleshouse found his alcohol blood level three times over the limit. Just a week earlier, Florida police had to arrest a woman in Lakeland for also driving drunk down a highway. This time it was on a horse.
The University of Tennessee is out of a head football coach now. Butch Jones was given the boot over the weekend after being on staff for four years. This comes after the Volunteers are into the season with a 0-6 record. The defensive line coach Brady Hoke will step in as interim head coach.