Your late afternoon Yellowhammer News update
written by J. Holland
on November 8, 2017 at 4:22 pm CST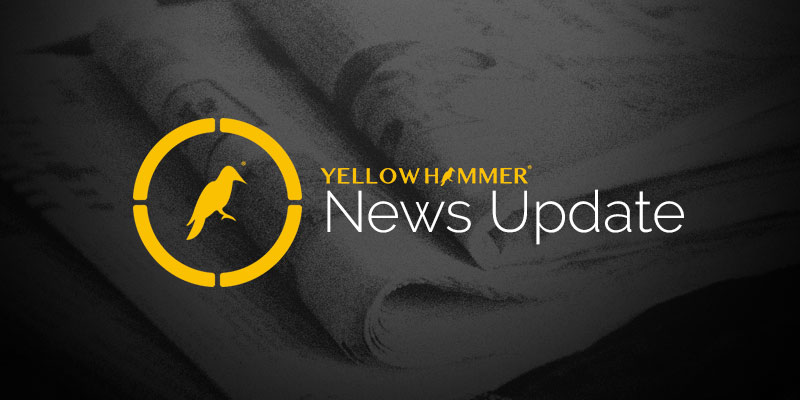 According to the U.S. Coast Guard, an oil platform fire in the Gulf injured two men today. A 54-year-old suffered burns, and a 29-year-old had a sprained wrist and concussion. The fire happened about 112 nautical miles south of Vermilion Bay, Louisiana. The Coast Guard Aviation Training Center Mobile launched an aircrew to check out the scene and reported the fire was mostly out.
Former Governor Robert Bentley wanted his wife, Dianne, arrested for secretly recording his phone calls. That's what former ALEA Secretary Spencer Collier alleged in a court brief filed Friday. The brief was filed to oppose Bentley's request to have Collier's lawsuit against him dismissed. Collier's attorney included the claim to illustrate what he called "unethical and abusive" actions by Bentley.
ALDOT says the Northern Beltline in Birmingham has been stopped because of a lack of federal funding. The project was being funded by the Appalachian Development Highway System, which was not funded in the 2018 federal transportation bill. The Northern Beltline is a 52-mile, six-lane highway that will connect I-59 in northeast Jefferson County to the I-459 interchange with I-59/20 near Bessemer.
An officer involved shooting occurred today. The Lauderdale County Sheriff's Office says it happened along Highway 72 after three deputies stopped a suspected burglar and passengers in their vehicle around 3 a.m. One of the deputies approached the car, and the driver threw the car in reverse and rammed the patrol car. The deputy in front shot the suspected burglar as well as the tires of the vehicle. The driver of the car was treated and released at a Shoals hospital.
Chuck Person, 53, the Auburn associate head basketball coach, who was indicted on federal bribery, conspiracy and fraud charges, was fired by Auburn today. The university made the move one day after Person and seven others were indicted by a federal grand jury in New York City. School officials said he was fired before the indictment.