Jones speaks in Huntsville tonight…Tuscaloosa teen sentenced to 20 years in prison…Thief steals toys from Toys for Tots…and more
written by Andrea Tice
on November 30, 2017 at 10:00 am CST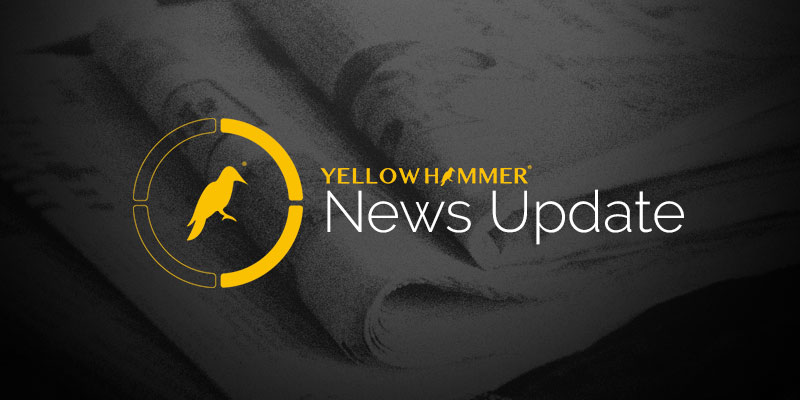 Democrat Senate candidate Doug Jones will be holding a rally tonight in Huntsville. Jones will speak at the Charger Union on the campus of the University of Alabama in Huntsville. The event is hosted by the UAH College Democrats. Jones will be taking questions from the audience.
Two Republicans are placed in key leadership positions in the state. Governor Kay Ivey appointed Republican William Smith to the Colbert County Commission and Republican Michael Anderton to be the Jefferson County District Attorney.
A Tuscaloosa teenager is sentenced to 20 years in prison for holding 10 people hostage in a bank robbery. 19-year-old Cedrick Collins pleaded guilty to robbing a credit union in January of this year. Collins threatened to shoot his hostages when police arrived during the robbery. Authorities were able to arrest Collins without harm to those people. Collins actually had a BB gun that looked like a handgun. One employee testified in court that Collins had the gun to her head at one point during the crime.
A high school teacher at Huntsville City Schools is now on administrative leave following claims of sexual misconduct with a student. The teacher at Maye Jemison High was removed from the campus on Wednesday. School officials say the case has been turned over to the police and the Board of Education.
A Christmas grinch grabs toys in Tuscaloosa. Police say the thief stole the items from the Toys for Tots distribution center. The toys were donated by members of the community and then stored at that facility. The Christmas crook got away with hundreds of dollars' worth of toys.
President Trump is defending the tax reform bill going through the Senate by attacking The New York Times. Trump tweeted out today that the failing media outlet has become the pipe organ for the Democrat Party. This comes after The New York Times posted phone numbers to swing vote Republicans, suggesting that Americans call them to oppose the tax bill. Trump said the media outlet is so wrong so often that he now knows the tax bill is a winner.
Former co-host to NBC's today show, Matt Lauer, is breaking the silence following his sudden firing from the job. Lauer was abruptly let go yesterday by NBC executives for sexual misconduct on the job. Lauer issued a written apology today that was read by his former co-host Savannah Guthrie.
Hundreds of sex trafficking victims and support groups are calling on one Democrat congressman to stop blockage of a bill. The bipartisan bill allows families of victims to sue websites that are engaged in selling sex with minors on their platforms. Democrat Senator Ron Wyden of Oregon placed a hold on the measure, saying it would harm startup companies and tech companies. Victims have signed a letter to Wyden which was sent yesterday, in which they demand he stop stalling the bill from getting to the floor.