Huntsville shooting incident leaves man dead and officer wounded….Trump continues to address Jones' policies as weak…and more
written by J. Holland
on November 27, 2017 at 1:00 pm CST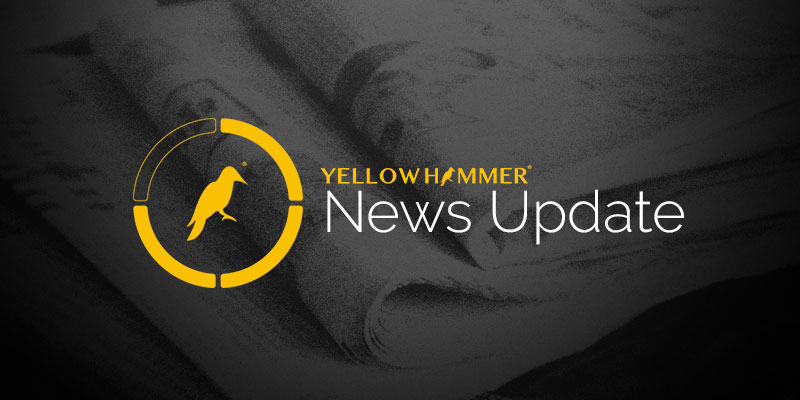 Governor Kay Ivey's office reports that Alabama's unemployment rate is at a historic low. The new preliminary, seasonally adjusted October unemployment rate is 3.6 percent. That's down from 3.8 percent in September, which tied the previous record. A year ago, the state's jobless rate was 6.1 percent. Governor Kay Ivey said in a statement that what the state is doing is working. Wilcox County had the state's highest rate at 8.5 percent and Shelby County had the lowest unemployment rate at 2.6 percent.
Anniston police are receiving a grant that will help all of their divisions. The Community Oriented Policing Services (COPS) program announced that Anniston police will receive a $500,000 grant from the Department of Justice. Chief Shane Denham says this is a big deal and will have a major impact on each division. The grant will fund salaries for four officers for three years. When the department applied for the grant, they were looking for ways to increase their manpower. The department has also agreed to cooperate with federal immigration agents as a stipulation of the grant.
President Donald Trump takes to Twitter Sunday morning to address the Alabama Senate race, particularly Doug Jones, the Mountain Brook Democrat. Trump mentioned Jones' policies as weak, saying, "The last thing we need in Alabama and the U.S. Senate is a Schumer/Pelosi puppet who is WEAK on crime, WEAK on the border, bad for our military and our great vets, bad for our 2nd Amendment, AND WANTS TO RAISE TAXES TO THE SKY. Jones would be a disaster!"
An officer-involved shooting has left a man dead and the officer wounded. Huntsville police reported three officers responding to a domestic call between a man and a woman Sunday night. They were met by a man with a gun. Shots were fired, no one knows who fired first. An officer was hit; another officer fired back, killing the armed man. The officer was taken to Huntsville Hospital with a gunshot wound to the leg and was released today. The victim's name has not been released.