Bannon coming to Alabama to campaign for Moore…Tragic murder suicide in Selma…Operation leads to 126 arrests in Jefferson County…and more
written by Andrea Tice
on November 29, 2017 at 7:00 am CST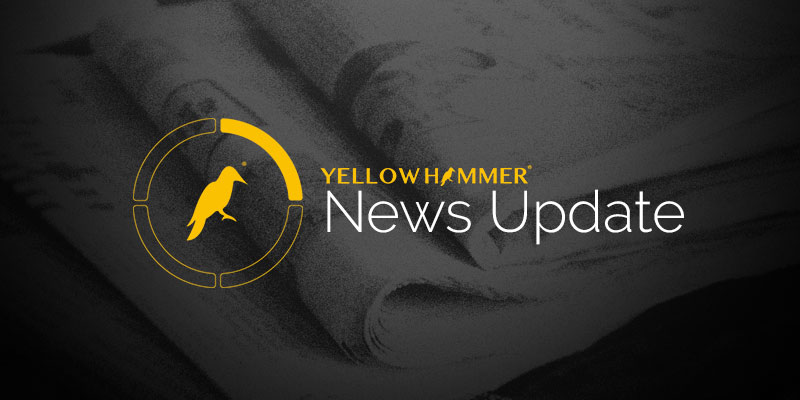 Former White House strategist Steve Bannon is coming to Alabama again. Bannon says he will campaign for Republican Senate candidate Roy Moore next week leading up to the special election. Bannon made the decision shortly after The Associated Press reported that Bannon would not be campaigning for Moore. Bannon says he looks forward to standing with Judge Moore.
Alabama's congressional representatives will be voting today on a mandatory training of congressmen and staff that addresses sexual harassment on Capitol Hill. This new legislation comes after two Democrats and one Republican have been caught up in sexual misconduct allegations. Representatives John Conyers, Al Franken and Joe Barton have apologized for their behavior. Conyers is facing an ethics investigation for firing a staffer because she resisted his sexual harassment.
A tragic murder suicide hits the city of Selma. A missing mother of three children was found dead in the trunk of her own vehicle. Her ex-husband was then found dead in Birmingham. 63-year-old Greg Scott died from a self-inflicted gunshot wound. 35-year-old Mary Elizabeth Scott was reported missing Monday. Police believe that Scott was killed at her home then moved to the car, which was found less than half a mile away. The couple was battling over custody of the children. They had joint custody at the time.
Operation Python puts the squeeze on violent criminals in west Jefferson County. The three-month operation led to 126 arrests. 18 of those arrest are known gang members. Drugs and guns were seized as well. The task force was put into action by the Bessemer Cutoff District Attorney Lynneice Washington, along with other agencies like the FBI, ATF and Alabama Law Enforcement Agency.
Fulton County authorities are searching for a missing teenage girl. 14-year-old Yaniya Carter is from Atlanta. She went missing on Sunday, Nov. 26. Family members believe she is with 19-year-old Gregory Harris. The two may be in a 1999 white Toyota Avalon.
A Florida city near Alabama lands an Air Force aircraft unit. Tyndall Air Force Base in Panama City will now house the MQ-9 Reaper. The 24 aircrafts brought to the base are piloted remotely. Tyndall was considered the best place for mission control, launch and maintenance for the aircraft. Airmen will begin arriving to the base in 2020.
Breaking news with more details to come. TV co-host Matt Lauer has been fired from the NBC Today show. The reasons given for Lauer's termination are inappropriate sexual behavior in the workplace.
Alabama Senator Luther Strange (R) votes to get a tax relief bill out of the committee and onto the Senate floor. Strange is a member of the Budget Committee. All Republicans voted in favor of the bill. Strange says the legislation will modernize the tax code and bring relief to hardworking Americans. Strange says that he looks forward to voting again for the bill with the whole Senate.
A leadership decision by President Trump gets back up from a federal judge. The U.S. District Judge ruled that Trump's move to appoint his own Budget Director Mick Mulvaney to head up the Consumer Financial Protection Bureau was legitimate and can move forward. The interim director Leandra English sued earlier this week to put a stop to President Trump's decision.
A second congresswoman is calling for her fellow Democrat to step down from his office. Pramila Jayapal of Washington says Representative John Conyers of Michigan should step down after more details of his sexual misconduct emerged. Congresswoman Kathleen Rice of New York, also a democrat, has made the same statement, calling Conyers' behavior with women staffers both credible and repulsive.
Police in Tampa Florida arrest a suspected serial killer. Howell Donaldson was taken into custody at a McDonald's restaurant in Ybor City after he handed a gun to a co-worker. That co-worker notified police. Donaldson is suspected of shooting and killing four people on separate occasions in the Seminole Heights community, putting that community in a state of panic and fear.