Former Saint Clair County sheriff's deputy is arrested after standoff…Brawl leaves one Gadsden boy dead…Trump donates salary to HHS…and more
written by J. Holland
on December 1, 2017 at 1:00 pm CST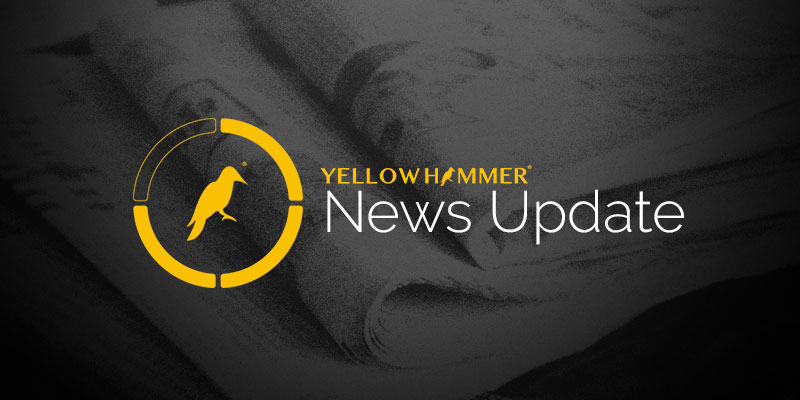 Dennis Jenkins, a former Saint Clair County sheriff's deputy, is arrested by Pell City Police after a standoff at a home. Jenkins is charged with one count of menacing. Pell City Police responded to the 200 block of Hazelwood Drive Thursday night and encountered an "irate, armed subject" who pointed a gun at them. Jenkins was apprehended after a brief standoff and taken to the Saint Clair County Jail in Pell City. There were no injuries.
President Donald Trump accepts an invitation to appear at the "MAGA rally" on Friday, Dec. 8, at the Pensacola Bay Center. It will be a campaign-style rally in Pensacola, less than 20 miles from the Alabama border and just four days before the state's special Senate election on Dec. 12.
He's back…former Alabama Attorney General Troy King will run for election to his old office. King filed the proper paperwork in the Secretary of State's office today. King was appointed to the job by former governor Bob Riley to fill the term of Bill Prior, who left for the federal bench. He has some Republican company, including current AG Steve Marshall, former U.S. Attorney General Alice Martin and Birmingham attorney Chess Bedsole. James Christie is the lone Democrat in the race.
President Trump has been donating his presidential salary on a quarterly basis to various government agencies. In the third quarter of this year, the president signed his salary over to HHS, says Acting Secretary Eric Hargan. He stated, "His decision to donate his salary is a tribute to his compassion, to his patriotism and his sense of duty to the American people. But it is his compassion, above all, that drives his interest in the issue, to which HHS is going to devote his donation: America's devastating opioid crisis."
Quinton Cordell Baker, 31, and Andrew Thomas, 51, both of Gadsden, were involved in a fight on July 19 in the 1000 block of Tuscaloosa Avenue. The altercation caused Thomas to have a seizure. A Gadsden police officer was flagged down by the medics. They took Thomas to a local hospital where he later died. Thomas' body was taken to the Alabama Department of Forensic Sciences for an autopsy, where they determined he had died from injuries sustained during the fight. Baker was arrested Tuesday on manslaughter charges.