No ticket needed for tonight's Moore / Bannon rally in Fairhope…Alabama snow possibility this week…and more
written by J. Holland
on December 5, 2017 at 1:00 pm CST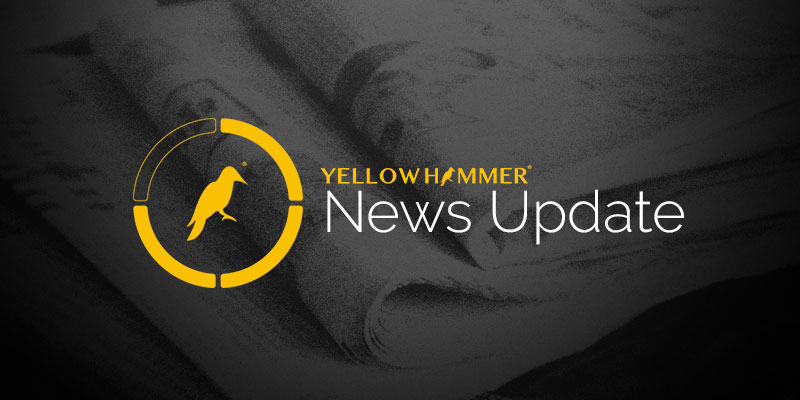 The Republican National Committee is back in support of Judge Roy Moore after President Donald Trump formally endorsed him Monday. The RNC's financial support to the Alabama Republican Party's effort to elect Moore to the US Senate has been resumed, despite the allegations of sexual misconduct against him.
NOAA says that a few strong storms could have Alabama's name on them today as a cold front enters the state. The Storm Prediction Center has put parts of central and south Alabama, from roughly as the Birmingham area to the south and west, under a slight risk of severe weather today as isolated severe storms are possible. The stronger storms could bring gusty winds and heavy rain.
Judge Roy Moore will hold a rally in Fairhope today. He will be making another stop at Oak Hollow Farm as he did once before in September before the run-off. That's when he pulled a gun out on stage to show his support for Second Amendment rights. The special election for the US Senate seat is a week away.  President Donald Trump voiced his support for Moore on Monday, despite the recent allegations. Former Chief Strategist to Donald Trump, Steve Bannon, is scheduled to appear with Moore in Fairhope. The event starts at 6:30 p.m.
The Roy Moore-Steve Bannon rally in Fairhope is now totally open to the public and 100 percent free. You don't need a ticket to get in. According to the Moore campaign, "liberals got on Eventbrite and took all the tickets, so we just dropped the ticket requirement and invited everyone to come." The rally starts at 6:30 p.m. and goes until 8:00 p.m. at Oak Hollow Farm, south of Fairhope.
For the first time this meteorological winter in Alabama, the "S" word has appeared. No need to get out the snow blowers yet, but you should be ready for the possibility of some snow later this week. Today, the National Weather Service (NWS) said the best chances for a light snow, which would most likely not accumulate, will be from Friday into Saturday morning. Let it snow.
If you will be traveling out of town or otherwise can't make it to vote in the special election on Dec. 12, you have a few more days to apply for an absentee ballot. The deadline is Thursday. Absentee ballots returned by mail must be postmarked no later than Dec. 11 and must arrive at the county courthouse no later than noon on Election Day. Absentee ballot applications are available on the Secretary of State's website.