Another earthquake is detected in Madison County…Jefferson County Sheriff's Office asks for help in finding shooting victim's family…and more
written by Andrea Tice
on December 1, 2017 at 10:00 am CST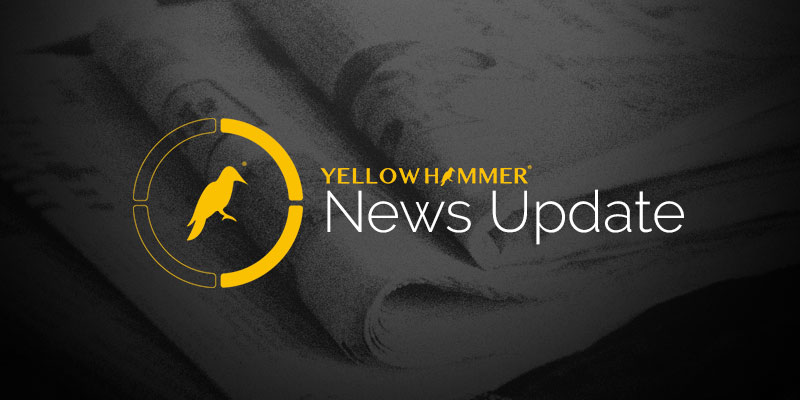 The president will be campaigning within miles of Alabama, but not in the state. Trump will be at a rally in Pensacola next week, only four days before the special Senate election in Alabama. The "Make America Great Again" rally will be on Dec. 8 at the Pensacola Bay Center.
Another earthquake is detected in the state. This one was a 2.3 magnitude quake in Madison County. The epicenter was located 11 miles from Huntsville. This is the state's 17th quake.
The U.S. Marshals Service confirms that an escaped Alabama inmate caught in Georgia is now back in the Elmore County Detention Center. Shane Vernon escaped the Coosa County Jail through a faulty electronic door. He went on a two-day crime spree before getting caught in Decatur, Georgia. Vernon now faces robbery, burglary and kidnapping charges.
The Jefferson County Sheriff's Office is asking for the public's help in finding the family of a shooting victim in Birmingham. 53-year-old Michael Stepp was found dead this week along a road in the downtown area of the city. Police say Stepp's death is a homicide. The coroner's office has been unable to find and contact Stepp's family. Stepp is originally from Baldwin County and may have ties to the Fairhope area.
A state championship competition for young gymnasts gets underway today in Foley. The Sports Tourism Complex will host the Alabama Compulsory State Gymnastics Meet. Female gymnasts from ages five and up will be showing their skills in vaulting, bars, the beam and the floor. The meet will end on Sunday.
Democrats in the U.S. House are calling on one of their own to step down. The list is growing of those who think Representative John Conyers of Michigan should leave his office. Multiple women have been telling their stories of sexual harassment while employed by Conyers. Democrat Minority Leader Nancy Pelosi switched gears on Thursday and called for Conyers to step down, days after she called him a civil rights icon. Seven other Democrats have now agreed with Pelosi, as well as Republican Speaker of the House Paul Ryan.
A 15-year-old missing Texas girl is found safely in Louisiana. Heaven Ray Cox was located at a Louisiana home after being five days away from home. Cox was feared to be in grave danger after it was revealed she talked to a much older man on Snapchat. She left behind her phone and a note to her parents.
This will cause some discussions at home over the weekend. A study out of Vanderbilt University in Nashville, TN says that dogs are smarter than cats. The study says the neurons in the animal's cerebral cortex is the biggest indicator of this intelligence superiority. Dogs have 530 million neurons there, while cats have only 250 million. Humans have 16 billion of those same neurons. So, you can't argue that your dog is smarter than some of your family members.