Your afternoon Yellowhammer News update
written by J. Holland
on November 8, 2017 at 1:00 pm CST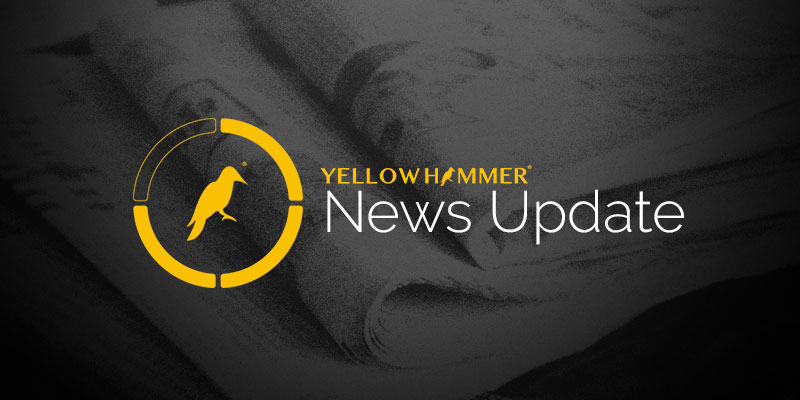 A Canadian company plans to open a call center in Anniston for telecommunications companies, creating about 150 jobs. The Anniston Star reports that the Anniston City Council heard details of the venture Tuesday night. The Canadian-based Viiz Communications plans to open the call center in a building on Hillyer Robinson Parkway. Viiz Communications contracts with major telecommunications companies and the Anniston center would be the company's U.S. headquarters.
Sylacauga police are investigating as five houses were set on fire in Sylacauga at 8:30 p.m. Tuesday night. Houses burned on West Pine Street, Oakland Avenue, West 8th Street and Near Arco Dairy Road. Most were unoccupied, except one on North Douglas Avenue which was occupied. One juvenile was arrested, according to the Sylacauga police. There were no injuries.
Lanett police say the city license for Club Addiction has been revoked by the mayor and city council by a 4 to 2 vote. A third suspect was arrested Monday night in connection to deadly shootings at the local nightclub. Auburn police arrested Dequavious Cobb, 26, on an unrelated charge. He was then taken into custody by Lanett police. Cobb is charged with murder and first-degree assault stemming from the nightclub shootings. Two people died in two shootings: one inside, the other outside the club Oct. 22. Seven others were injured. Daron Dafney, 20, and Travis Fielder, 20, are also charged.
During this year's nationwide Drug Take Back Day, people did their part to reduce the opioid crisis by dropping off a record-setting 912,305 pounds, 456 tons, of potentially dangerous expired, unused and unwanted prescription drugs. That is almost six tons more than was collected at last spring's event. In Alabama, law enforcement collected more than 7,000 pounds at its more than 52 collection sites across the state. The next "Take Back" event is scheduled for April 28, 2018.