Your afternoon Yellowhammer News update
written by J. Holland
on November 15, 2017 at 1:00 pm CST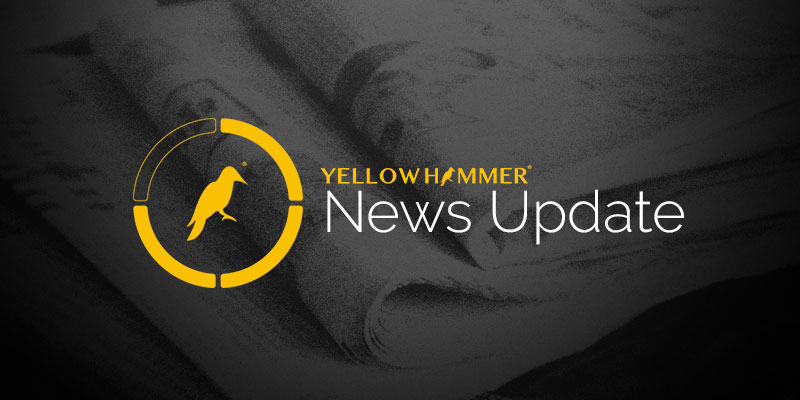 A keel laying ceremony was held today at Austal USA, in Mobile, for the U.S.S. Kansas City, the final littoral combat ship (LCS) of an 11-ship contract with the U.S. Navy. The Kansas City is a 419-foot aluminum trimaran, with reconfigurable payload capability; in other words, mission packages that can be changed to support mine countermeasure, anti-submarine and surface warfare missions. Six ships of the Independence class are now under construction at Austal's shipyard in Mobile.
Tony Martin Patillo, 51, of Columbus, Georgia and James Johnson Jr., 32, of Auburn, the two former Auburn Tiger Transit bus drivers accused of raping an Auburn University student were in court Tuesday. Patillo is charged with several counts of public lewdness, first-degree rape and first-degree sodomy. Johnson is charged with first-degree rape and first-degree sodomy. The incident happened on Sept.15.
President Donald Trump, just back from his Asia trip, now must decide how to deal with the Roy Moore situation regarding the sexual misconduct accusations dogging the GOP. Having pushed publicly and privately for Moore to get out of the race, Republicans believe their last, best shot is Trump, who they hope can persuade his fellow political rebel to fall in line.
Airbus signs a deal to sell 430 jetliners to a private equity firm that owns Frontier Airlines and three other airliners as subsidiaries. Airbus says the Frontier planes will be delivered from the Airbus production facility in Mobile next year. Frontier says it will order 134 of the A320 aircrafts. The Mobile facility has already built and delivered planes for Delta, Spirit Airlines, American Airlines and Jet Blue. Just last month, Airbus said it will work with Bombardier to make the CSeries jet and build a second final assembly line in Mobile.