Despite chatter about booting Moore from Senate, it would not be quick or easy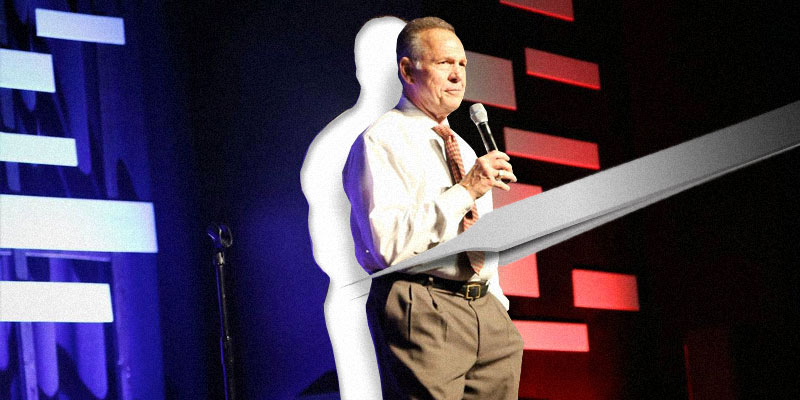 There has been much chatter in Washington that the Senate might expel Roy Moore or even refuse to seat him at all if he wins this month's special election in Alabama, but that would be harder than many realize.
Senate Majority Leader Mitch McConnell (R-Ky.) raised the issue once again this week, telling Fox News host Laura Ingraham that the Republican nominee would have to answer in some way for sexual-abuse allegations that have dogged him during the campaign to fill the seat once held by Attorney General Jeff Sessions.
"I think there's a possibility he will have an ethics issue … I think it's almost certain," McConnell said.
The Republican leader sidestepped a question about whether the Senate would try to ditch Moore.
"We'll deal with the aftermath of the decision that the people of Alabama make on Dec. 12," he said.
But experts contend that the odds would be stacked in Moore's favor.
The idea of trying to block him from even taking his seat appears to be a non-starter. The U.S. Supreme Court settled that in a 1969 ruling in favor of then-Rep. Adam Clayton Powell, a New York Democrat who fought efforts by the House of Representatives to stop him from taking his seat after winning re-election despite a scandal involving his refusal to pay a judgement ordered by a state court judge and allegations that he had misappropriated congressional funds.
The high court ruled 7-1 that the House could not add qualifications for office not included in the Constitution.
Rachel Bovard, an expert on Senate procedure who serves as senior policy director of the Conservative Partnership Institute, said the same logic likely applies to the Senate.
"The Senate can't just say 'no,'" she said. "That would be a constitutional test and probably be overturned in court. … They can't refuse to seat a senator who is duly elected."
Hans von Spakovsky, a former member of the Federal Election Commission who now works as a legal analyst at the conservative-leaning Heritage Foundation, agreed.
Both von Spakovsky and Bovard agreed that the Senate could expel Moore. They noted that the courts generally have granted wide deference to the elected branch to determine its own rules of conduct and how to enforce them.
But it would not be a clean process, they said.
"It's a pretty severe thing to do, obviously," Bovard said.
Presumably, a vote to expel would have to be preceded by an Ethics Committee investigation and a chance for Moore to defend himself against the allegations. The vote, itself, would need to pass by a two-thirds margin — 67 senators.
Then there is the awkwardness of punishing Moore for conduct unbecoming a senator based on alleged activity that occurred decades before he even became a senator.
"Can you expel him for something that occurred 40 years ago for something that his constituents were told about before the election?" asked Jess Brown, an emeritus political science professor at Athens State University.
Von Spakovsky said it is a good bet Moore would press those issues.
"I don't think there would be a legal challenge, but he could raise a storm on the Senate floor," he said.
Bovard said the last time the Senate expelled members occurred during the Civil War era and involved senators who supported the Confederacy. She said she is not aware of any attempt to boot a senator for conduct that predated his tenure in the upper chamber.
"That's actually unprecedented, and you're seeing it now with Franken," she said, referring to allegations that Sen. Al Franken (D-Minn.) groped women before he became a senator.
Bovard said senators may be leery of opening the door to punishing members for anything they ever have done in their lives because it might come back to bite them.
"That's a huge problem, and people aren't thinking through that," she said.
Brown said Moore also might have a good argument about the fairness of senators from outside of Alabama vetoing the choice of Alabama voters, who know about the allegations before they pass judgment at the ballot box.
"If you know the guy is a jackass and you elect him, he's your jackass," he said.
Moore remains defiant. His campaign spokesman, Brett Doster, dismissed the suggestions of an expulsion as "rumors purveyed by the Beltway establishment trying to bully him out of the race. Roy Moore is going to win Dec. 12, and he is going to be seated in the Senate."
Sen. Marco Rubio (R-Fla.) gave an indication of the reluctance GOP senators might have to kick Moore out of the Senate. He said on the "The Ingraham Angle" on Wednesday that he finds the accusations against Moore credible.
"That said, this information is before the voters of Alabama, and if they elect him, and then you, as a Senate, have ethics hearings to remove him from office or something like that, that gets more complicated," he said. "That's a little bit more complicated, because voters will have this information before them when they vote for him, if in fact, he's elected."
Brendan Kirby is senior political reporter at LifeZette.com and a Yellowhammer contributor. He also is the author of "Wicked Mobile." Follow him on Twitter.