College Football Preview: Auburn vs. LSU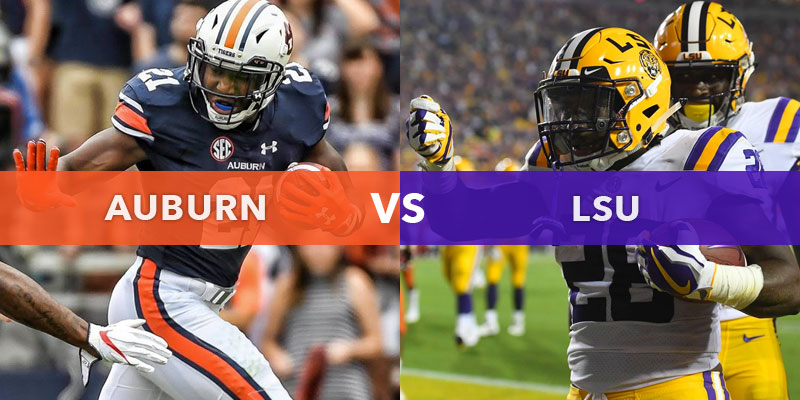 Week seven of college football has the Auburn Tigers traveling to Baton Rouge to face off against LSU in Death Valley. This Tigers vs. Tigers matchup never disappoints. Last year, both programs left the game looking a little different than when they came in. In one of the most bizarre endings in college football, Auburn came out on top after it was determined that LSU's last second score came after time expired. Auburn's season turned around after that game, as Sean White led the team to a five game winning streak. However, that game saw the end of an era at LSU, as the school decided to fire long-time head coach Les Miles in the middle of the season. Ironically, Miles and his 2007 championship team are being honored at this year's matchup.
This year, Auburn is looking much better coming into the matchup. The Tigers are coming off three straight SEC wins with more than 40 points scored in each game. Stidham, Johnson, and company put a pounding on Ole Miss last week in a 44-23 victory. Kerryon Johnson rushed for 204 yards and three touchdowns, while Stidham had another amazing game through the air. The Auburn offense shows no signs of slowing down, and with the defensive squad to back them up, the Tigers seem to be waiting for someone to challenge them.
LSU could be that challenge, although they need to play a near perfect game to be able to keep up with those other Tigers. LSU came back from an embarrassing homecoming loss to Troy and beat Florida in a close one, 17-16. The Tiger defense has the talent to be one of the best in the nation and is playing pretty well so far – they've racked up 20 sacks on the season. The offense is another story. The Tigers have struggled to sustain drives and even score throughout the season. The stalwart Auburn defense will be a challenge for LSU's sputtering offense.
LSU will be the best defense Auburn has faced since its lost to Clemson. In that game, Auburn's signature running game was non-existant as the offensive line struggled, giving up 11 sacks. It will be interesting to see how this improved Auburn offense handles another high caliber defensive attack. So far, adjustments on the O-line have worked incredibly well, but will they hold up in Death Valley?
Auburn has not won in Death Valley since 1999. Could this be their chance? All signs would point to yes. If the Auburn offense can prove its worth against a high caliber defense and continue its lights out performance, the Tigers should come out with their fourth straight SEC win. However, expect this one to be lower scoring than the last few. Auburn could finally face a tough defensive battle, not to mention the ominous environment of Death Valley.
Auburn vs. LSU Prediction
Auburn – 30
LSU – 17