College Football Preview: Alabama vs. Arkansas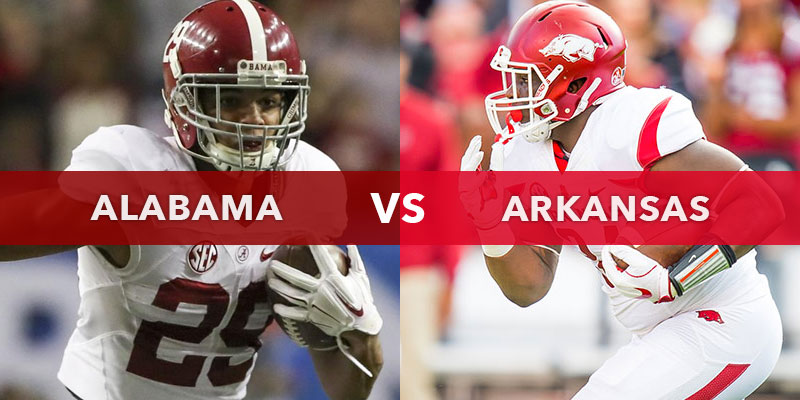 Set for a 6:15 kickoff, Bret Bielema's Razorbacks are traveling to Tuscaloosa to take on the #1 Crimson Tide. While the matchup has become a midseason right of passage, it's hardly an even contest. Over the past ten seasons, Alabama has gone undefeated against Arkansas. Some games haven't been pretty, like the 2014 game where the Tide narrowly escaped with a win, but it's no secret Alabama owns this annual matchup.
Most consider it a foregone conclusion that Nick Saban will out game Bielema on Saturday. Should they be that comfortable, or is there more to this game then meets the eye?
So, without further ado, here are our weekly keys to success.
Razorback Physicality and Talent: It's hard to deny that, under Bielema, Arkansas brings tenacity to any game they play. If you think they are just going to lay down for Alabama, then you need to think again. There probably aren't many better examples of a team that encompasses SEC football. When you tune into Saturday's game, you're going to see smash mouth football at it's best. The Razorbacks are going to make Alabama fight for every yard, just like they have in previous years. So, don't expect to see a crazy high score like you did against Ole Miss.
That said, physicality and determination can only take a team so far and that's the problem with Arkansas. While they play with a lot of grit, they just don't have the talent to compete with the Tide. Case in point: the loss they suffered last week to a mediocre South Carolina team. By all accounts, Arkansas should have asserted their will, but they didn't. Why? They fundamentally lack the talent and depth necessary to win consistently.
The Alabama Strategy: There is a very compelling argument for Nick Saban being the best coach of all time. His football aptitude and attention to detail effectively make him the 12th man.
The biggest advantage Alabama has this week, other than a roster packed with NFL talent, is Nick Saban. We know Arkansas doesn't have the talent to compete with Alabama and so does Saban. He's known for breaking down a team and hitting them where they are most vulnerable, and that is what you'll see again in this game. Nick has had 10 seasons worth of strategy against Arkansas, and he knows right where to hit them.
The biggest factor on the Alabama side will defiantly be the game plan. Arkansas will put up a valiant fight, but you've got to bring more to the table when you take on the Tide. Saban knows there is no point in slamming against a wall; he will meticulously pick through the Razorbacks weaknesses until they lose their will to fight.
Alabama vs. Arkansas Prediction
Alabama – 33
Arkansas – 7