Can You Help Solve Alabama's Cold Cases?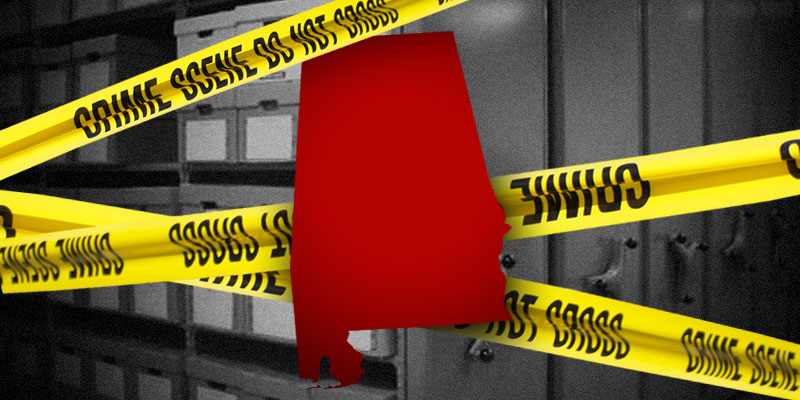 It's easy to forget about old crimes unless you, a family member, or a close friend were the victims. To those people, these cold cases are very important, and they're important to us all because the criminals who committed them are still on the loose., posing a potential threat to us all. As Alabama Attorney General Steve Marshall told Yellowhammer,
The Attorney General's Office works with other law enforcement agencies across the state and around the country to help solve cold cases.  There is no statute of limitations on murder.  Families who've lost loved ones in unsolved murders deserve justice.  They have our commitment that their loved ones have not been forgotten.  We will continue to pursue every lead to bring the persons responsible for taking a life, no matter how long ago, to answer for their crime under the law.

Marshall's office maintains a list of these cases and we're sharing them with you. AG Marshall is asking for the public's help with these unsolved cases.
Marshall said anyone with a cold case tip is encouraged to contact the Alabama Attorney General's Office Cold Case Tip Line at (866) 419-1236, or email coldcasetips@ago.state.al.us.
1980 murder of Sandra Cassady Williams, in Mobile, Alabama.
On Thursday, September 11, 1980 at approximately 9:00 a.m., the body of Sandra Cassady Williams, a 20-year-old white female, was discovered in the cul-de-sac in the 2000 block of Clemente Court in Mobile, Alabama.  Mobile Police determined Ms. Williams was the victim of foul play.  At the time of her murder, she was living in Summer Tree Apartments on Azalea Road in Mobile.  Sandra Cassady Williams was employed at Tammy's Fitness Center which was located on Moffett Road in Mobile.
1999 murders of JB Hilton Green Beasley and Tracie Hawlett from Ozark, Alabama. 
On Saturday, July 31, 1999, JB Hilton Green Beasley, white female and Tracie Hawlett, white female, both 17 years of age, were reported missing to the Dothan Police Department by family members. The girls were reportedly headed to a party and were last seen in Ozark, Alabama. At about 9:00 A.M. on Sunday, August 1, 1999, the vehicle they were traveling in, a black Mazda, was located on Herring Avenue in Ozark by the Ozark Police Department. It was later determined that both girls were deceased in the trunk of that vehicle; both were victims of apparent homicide.
1999 murder of Gennice Shoma Thrash, in Fort Mitchell, Alabama.
On July 16, 1999, around 7:30AM workers arriving for work at the Fort Mitchell National Cemetery located off of Alabama Highway 165, Fort Mitchell, Alabama, located a black female on the side of the entrance road for the cemetery. The female was fully clothed, unresponsive and barely breathing. Shortly after law enforcement personnel arrived at the location the victim succumbed from her injuries. The victim was subsequently identified as Gennice Shoma Thrash, age 41, of Lamore Drive, Columbus, Georgia. Several witnesses reported seeing a vehicle either at the entrance to or on the entry road just inside Fort Mitchell National Cemetery and gave descriptions of the subjects they observed with the vehicle.
2001 murder of Shannon Nicole Paulk from Autauga County, Alabama. 
On the afternoon of Thursday, August 16, 2001, Shannon Nicole Paulk, an eleven year old white female, was seen talking to a unknown male in a vehicle in Candlestick Trailer park where she lived. She was not seen again after that. On October 6, 2001, Shannon's remains were located off of Autauga County Road 66, in the Autauga County Wildlife Management area.
2002 murders of Monica Rollins and her son Dalton Rollins from Heflin, Alabama.
On the morning of Monday, September 16, 2002, Monica Faye Pritchett Rollins, age 23 and her son Dalton Scott Rollins, age 6, were discovered by a relative, murdered in their home, located on Sugar Hill Road in Heflin, Alabama.  At the time of the murders, Monica Rollins was approximately 36 weeks pregnant.  That fetus died in the attack.   Monica's son, Aaron, age 2, was also located inside of the residence, unharmed.
2007 disappearance of Kimberly Compton Whitton and Haleigh Culwell from Section, Alabama.
On July 2, 2007, Kimberly Compton Whitton was reported missing by a co-worker who had last seen and heard from her on June 21, 2007. Kimberly Whitton did not report for work on June 25, 2007 and her friends and co-workers became concerned for her welfare. The Jackson County Sheriff's Office went to the Whitton property, in Section, Alabama, for a welfare check, but neither Kimberly or Haleigh were there and the Deputy was told they left on June 22, 2007 and had not returned. At the time of their disappearance Kimberly was 36 years of age and Haleigh was 11 years of age. Kimberly would currently be 44 years old and Haleigh 19 years old.
2011 murder of Sherri Terese Smith from Fairfield, Alabama.
In the early morning hours of Monday, November 21, 2011, Fairfield Police responded to a residential alarm at the residence of Sherri Smith on Earlwood Road in Fairfield, Alabama. Upon arrival officer located Smith in her bedroom, the victim of an apparent homicide.
2011 murder of DeLange Tawon Harris, in Crenshaw County, Alabama.
On May 3, 2011, around 4:30PM the body DeLange Tawon Harris, age 25, was found on the side of Athens Church Road in the Goshen Community of Crenshaw County, Alabama. Law enforcement personnel who responded to the scene determined that Mr. Harris was the victim of a homicide. It appears that Harris was murdered at the location where his body was located.
2011 murder of Kamailie Laylani Oglesby, in Birmingham, Alabama. 
On Wednesday, August 31, 2011, Kamailie Laylani Oglesby, a white female, age 30, was reported missing by a friend from Birmingham, Alabama.  She was last seen alive on Friday, August 26, 2011 in the 5900 block of 1st Avenue North in Birmingham, getting onto the back of a reddish motorcycle, operated by a white male. On Wednesday, December 14, 2011, Saint Clair County Sheriff's Office responded to a call of human remains being found off of Hidden Valley Drive in Argo, Alabama. Those remains were subsequently determined to be the remains of Laylani Oglesby.
Again, if anyone has any evidence or clues surrounding these unsolved cases please contact Alabama's Cold Case hotline: (866) 419-1236 or Email: coldcasetips@ago.state.al.us