Three Auburn Tigers Fly More Than Just Down the Field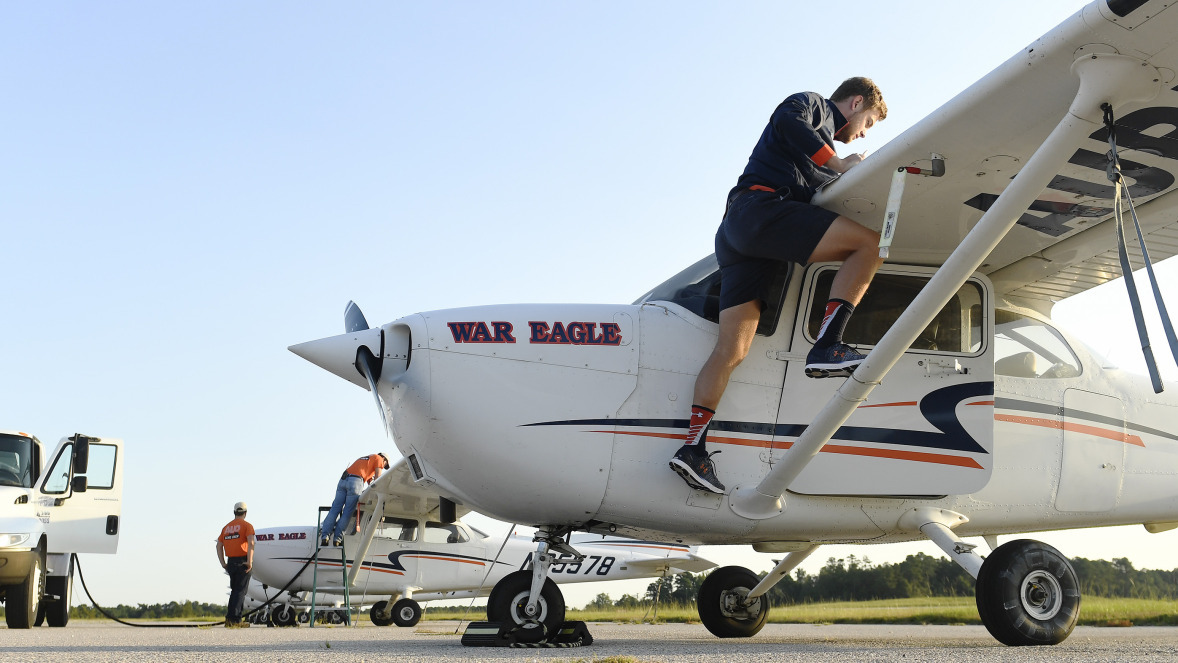 Three Auburn football players are proving they can soar like eagles on and off the field. Punter Ian Shannon, offensive lineman Nick Brahms, and kicker Anders Carlson are all majoring in professional flight. The fact that they are teammates provides a little competition, as each pushes to study harder and fly longer than his teammate.
According to AuburnTigers.com, Shannon earned his Private Pilot Certificate last year. "I have the ability to fly during visual flight rules," said the sophomore from Marietta, Ga. "During clear days, I'm allowed to fly, whoever, wherever."
Friday morning, Shannon logged another hour of flight time as he flew a Cessna 172 from the Auburn University Regional Airport to Macon County and back, without an instructor. He has recorded 90 hours of flight time.
"You have to be able to apply all of the information," says Shannon. "Daily, I'll go into class and learn about your vestibular system, your inner ear fluids, and then that day you'll go fly, and you'll go into a cloud, and you're thinking, `I don't know if I'm upside down or right-side up.'" He then mentioned the importance of trusting your instruments. Shannon is half way done with securing his instrument rating, and is on his way to become a commercial pilot.
This year, Freshmen teammates Brahms and Carlson joined Shannon in the flight program. The friendly competition between the trio has brought out the best in each of them. "Now I've got them and I can never let them be better at flying than me, so I have to always be studying more than them and always be better than them," Shannon said.
Brahms and Carlson both have aviation backgrounds. Brahms' dad flies internationally for Delta, and Carlson's mother was an international flight attendant. As both were deciding on what school to attend, football and an aviation program went hand in hand. Brahms and Carlson were ecstatic when they learned about Auburn's program.
"Knowing that Ian was able to do it, and that it was an option here, made me really interested," said Carlson. "I don't think any other school that I looked at had anything like this."
"When I came here on a visit, I found out about the program," said Brahms. "I thought, `That would be pretty cool, not sitting at a desk all day.' It's amazing. I wouldn't want to do anything else."
Auburn's aviation program began in 1941 with the goal of "producing leaders, not just pilots," as Dr. Bill Hutto, Auburn's Airport and Aviation Center Director said. Classes start bright and early at 7 a.m., pretty early for a student also juggling the rigorous demands of playing college football.
"The student-athletes really are impressive in the way they do things because they have to put so much more into it," Hutto said. "Not only do you have to enjoy it, but you have to find that time and really make it a priority. They're somewhat of an inspiration to the other students to say, `Hey, if you can balance all that you have going on in your life, I know I can do it as well.'"
"It can be tough sometimes, but I enjoy it," Carlson says. "It's not hard if you enjoy it."
What better reward for those early mornings flying and long nights studying than the view from a classroom in the clouds?"
Just the scenery," said Brahms, who made his first solo excursion last week. "Sometimes, there will be a cloud layer below you. It's beautiful up there above the clouds. Seeing the stadium, too, from the air is incredible, just the whole campus is pretty. I can't describe it. You've got to go up there."