Alabama congresswoman pushes gun control with 'sit-in' on House floor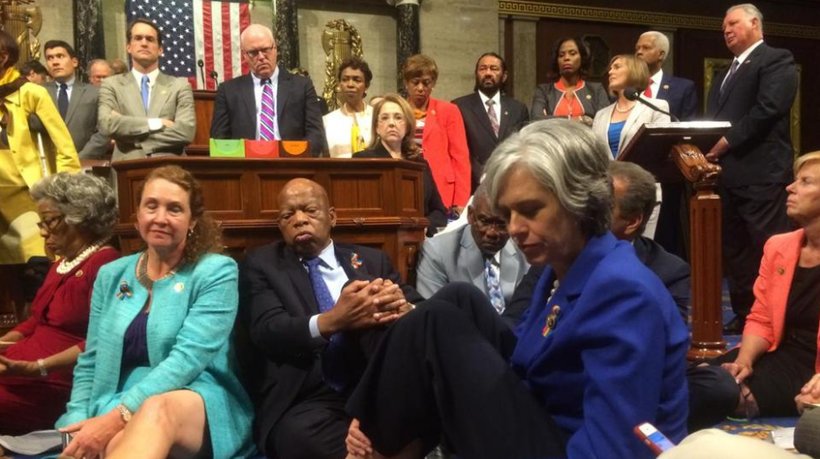 WASHINGTON — Alabama Congresswoman Terri Sewell (D-AL7) joined her Democratic colleagues on the House floor tuesday for a sit-in designed to force Republicans to vote on more stringent gun control measures.
Several proposals that would have expanded background checks in various ways failed to meet the 60-vote threshold needed to push forward in the Senate, sending Democratic lawmakers into a public meltdown.
Several Democrats openly said that Republicans' refusal to pass new gun control laws in the wake of the recent Orlando nightclub terrorist attack meant conservatives would rather sell guns to the so called Islamic State than buck the National Rifle Association (NRA).
.@ChrisMurphyCT said it right: The @SenateGOP have decided to sell weapons to ISIS.

— Elizabeth Warren (@SenWarren) June 20, 2016
The NRA shot back with an email blast to its members saying, "They're blaming you… for the terrorist attack in Orlando and taking advantage of this tragedy to push their gun control agenda while emotions run high."
Democrats in the House then decided to stage a sit-in on the House floor, which they hoped would gain widespread coverage on television. However, House Speaker Paul Ryan (R-Wis.) put the House in recess, meaning the C-Span cameras that normally capture the action on the floor were turned off. Democrats then turned to social media apps like Periscope and Twitter to get their message out.
Sewell, a three-term House member from Birmingham, tweeted out an image of her sitting "in solidarity" with her Democratic colleagues.
Sitting in solidarity with my colleagues on the house floor. #goodtrouble #StopGunViolence pic.twitter.com/lwy5IqlI1U

— Rep. Terri A. Sewell (@RepTerriSewell) June 22, 2016
Second Amendment issues often unite conservatives and liberals in Alabama, where gun rights are deeply engrained in the state's culture. This time, however, Sewell — the state's lone Democratic member of congress — has put herself out on an island.
The sit-in is a misdirected attempt to distract the public from the true issue, radical Islamic terrorism.

— Gary Palmer (@USRepGaryPalmer) June 22, 2016